NEW DELHI: Polling for the fourth phase of the tightly-contested West Bengal assembly elections ended on Saturday evening with a voter turnout of 76.16%.
A total of 373 candidates contested for 44 constituencies across five districts – Cooch Behar, Alipurduar, South 24 Parganas, Hooghly and Howrah. Out of 373 candidates, 323 candidates were male and 50 candidates were female.
Polling was held from 7 am to 6.30 pm in 15,940 polling nine assembly constituencies in Howrah, 11 in South 24 Parganas, five in Alipurduar, nine in Cooch Behar and ten in Hooghly district.
The highest turnout of 79.73% was registered in Cooch Behar district, followed by 76.2 % polling in Hoogly. In South 24 Parganas it was 75.49%, while in Howrah it was 75.03 % and in Alipurduar 73.65%, a senior official in the CEO's office said.
Female voters dominated this phase as out of a total of 1,15,094,950 voters, 58,95,871 voters were men and 56,98,789 voters were women while 290 were of other genders.
Here are the top developments:
Four killed as central forces open fire after coming under attack
Four people were killed as central forces allegedly opened fire after coming under attack from locals, who "attempted to snatch their rifles", in West Bengal's Cooch Behar district on Saturday, police said.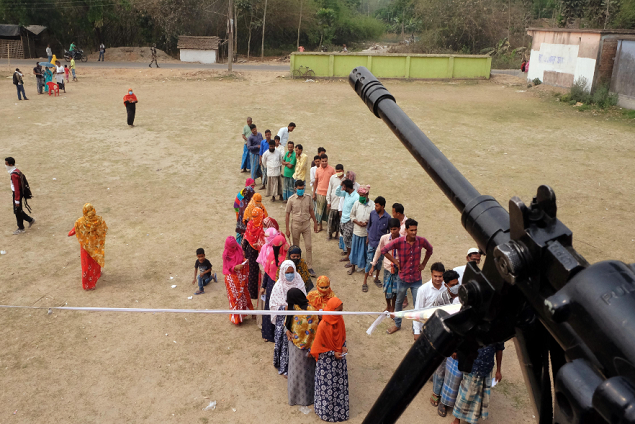 The incident took place in Sitalkuchi area when voting was underway, a senior district police officer said.
Clashes broke out between TMC and BJP activists in Mathabhanga area of Sitalkuchi while voting was underway, a source said.
EC orders suspension of polls at polling station number 126 in Sitalkuchi
The Election Commission (EC) ordered suspension of polls on Saturday at polling station number 126 in the Sitalkuchi assembly constituency of West Bengal amid reports of violence.
A spokesperson of the poll panel said the decision was based on an interim report filed by special observers.
The polling was suspended at Amtali Madhyamik Siksha Kendra (polling booth number 126) of the Sitalkuchi Assembly constituency.
A repoll would be ordered in the coming days in accordance with the laid-down procedure, a source said.
18-year-old voter gunned down
In a shocking incident, an 18-year-old voter, Ananda Barman, was allegedly gunned down by miscreants outside booth number 85 in Pathantuli area after clashes broke out between activists of the ruling TMC and the BJP.
The culprits, who are yet to be identified, managed to flee, the officials said.
The incident led to violence in the area as bombs were hurled, prompting central forces to baton-charge to bring the situation under control, police said.
Both the TMC and BJP claimed that Barman belonged to their party, but his family members said he was an activist of the saffron party.
"We have received information about a person being shot outside a polling booth in Sitalkuchi in Cooch Behar. We have sought a report from the micro observer," an Election Commission of India (EC) official said.
Mamata questions self-defence version of central forces, orders CID probe
West Bengal chief minister Mamata Banerjee said that the firing in Cooch Behar was a part of a larger conspiracy with other TMC leaders adding that PM Modi cannot be ruled out of it.
CM Mamata also questioned the central forces' version of firing on voters in self-defence in Cooch Behar and said her government will initiate a CID probe into the incident.
Banerjee said there is no video footage or any other proof to substantiate claims of the central forces.
Banerjee reiterated her demand for the resignation of Union home minister Amit Shah for the firing incident in Cooch Behar, and wondered whose "direct interference into the functioning of the Election Commission and central forces" led to the excesses.
Modi condoles death in CISF firing in Cooch Behar, blames TMC for violence
Condoling the death of our people in firing by central forces in Cooch Behar, Prime Minister Narendra Modi Saturday requested the Election Commission to take stern action against those responsible for the incident and blamed the ruling TMC for perpetrating violence during the polls.
He also accused chief minister Mamata Banerjee of instigating people against the central forces.
"What happened in Cooch Behar is unfortunate and sad. I extend my condolences to the bereaved families and urge the Election Commission to take stern action against those responsible for the incident.
"Mamata Didi and her TMC goons have become jittery because of ground swell of support for BJP," Modi told an election rally here in North Bengal.
Prashant Kishor: BJP will not cross 100 seats in Bengal
Reacting to his leaked 'Club House room' audio chat, Trinamool Congress' (TMC) poll strategist Prashant Kishor on Saturday reiterated that BJP will not cross 100 seats in the West Bengal assembly elections while adding that the BJP should show courage by sharing the full chat instead of selective part.
I am glad BJP is taking my chat more seriously than words of their own leaders!😊They should show courage & share… https://t.co/L8Zc4PhVtE

— Prashant Kishor (@PrashantKishor) 1618030872000
An audio chat of 'Club House room' involving Prashant Kishor and a few journalists was leaked on social media.
"There is no anti-incumbency against Modi. Modi has become a cult in the country. Modi is popular in Bengal. The Hindi speaking people is the core support base of BJP in Bengal. Modi is very popular here. Modi and Mamata are equally popular in Bengal," Kishore said in that conversation.
Meanwhile, Election Commission has directed Union home ministry to deploy 71 additional companies of Central Armed Police forces in West Bengal for conduct of remaining four phases of polls.
Polling for the next phase will take place on April 17. While the result of the 44 seats will be declared along with 250 others of the state on May 2.
(With agency inputs)