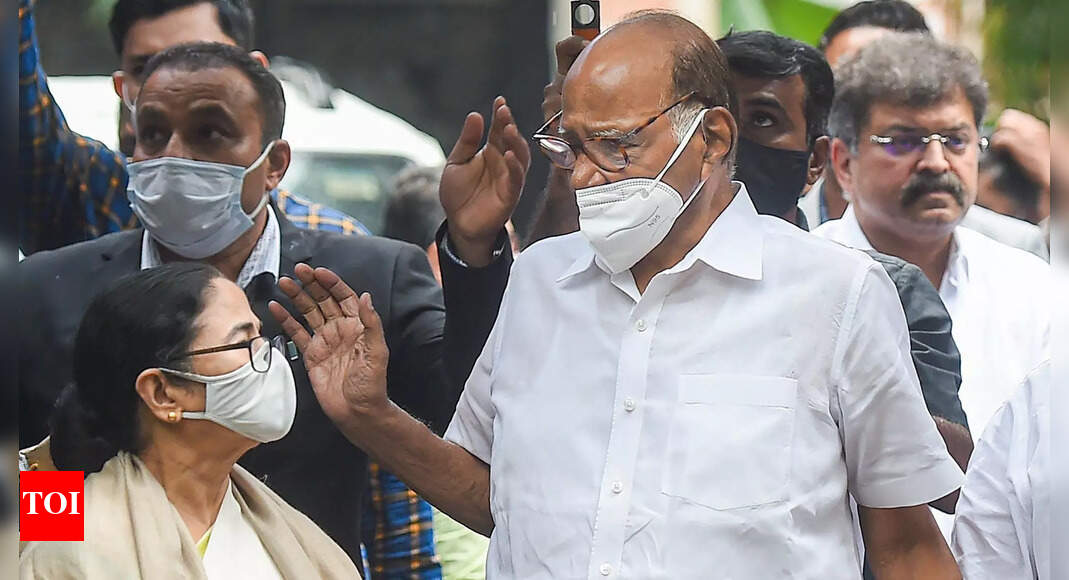 NEW DELHI: After her
Trinamool Congress
's (
TMC
) spectacular victory in the West Bengal assembly election early this year, chief minister
Mamata Banerjee
has set out to achieve larger goals at the national level. It is much the same way as Delhi chief minister
Arvind Kejriwal
had started nursing national ambitions after his party's first stint in power in 2013.
TMC has made its intention clear. Buoyed by the outcome in West Bengal, it wants to become the alternative to the country's principal opposition party, the Congress, and become the main fulcrum of the opposition.
TMC has started giving the cold shoulder to the Congress party inside Parliament during the ongoing winter session and outside it.
Mamata visited Delhi last week between November 22 and November 25, a few days ahead of the winter session of Parliament which commenced on November 29. She called on Prime Minister Narendra Modi but she did not meet Congress interim president
Sonia Gandhi
.
It was unlike her visit in July amidst the monsoon session of Parliament when she met Sonia Gandhi, giving a semblance of bonhomie between TMC and Congress.
It was just a couple of months after TMC had registered a landslide victory on May 2 in the West Bengal assembly election in which the Congress subdued its campaign, making it easy for TMC to trounce the BJP.
However, Mamata soon charted a different course after the monsoon session of Parliament came to an end. TMC started spreading its wings outside West Bengal and started poaching on Congress leaders.
The chief of the
Congress
's women's wing, Sushmita Dev, was the first prominent face to jump ship. TMC sent Sushmita Dev to the Rajya Sabha.
Tripura was the first state where TMC started setting up its base outside West Bengal. Sushmita Dev was given charge of the state. The party engaged the services of election strategist Prashant Kishor's Indian Political Action Committee (I-PAC) in Tripura also.
Mamata had already taken Kishor's advice in West Bengal in the last few months before the assembly election and came out with flying colours.
Besides Tripura, TMC has set its eyes upon other northeastern states such as Assam and Meghalaya.
Last week, 12 of the 17 Congress MLAs led by former CM Mukul Sangma switched over to TMC, making it the main opposition party in the state.
TMC has announced that it would also seriously focus on forthcoming assembly elections in Goa and Uttar Pradesh.
With regard to its mission in Goa, TMC inducted Congress leader and former CM Luizinho Faleiro into the party in September and nominated him to the Rajya Sabha from West Bengal in November.
With the slogan 'Goenchi Navi Sakal' (Goa's New Dawn), TMC has activated its leaders such as Derek O'Brien, Babul Supriyo and Sougata Roy in the coastal state.
Mamata paid her maiden three-day visit to Goa in the last week of October. In a bid to strike a chord with the local people, she said in a speech that Bengal is her motherland and so is Goa.
Of late, the West Bengal CM and TMC supremo has been hitting hard at the Congress and has also made a damaging personal attack on
Rahul Gandhi
.
During her three-day visit to Maharashtra starting on November 30, Mamata met leaders of two of the three Maha Vikas Aghadi (MVA) ruling parties – NCP and
Shiv Sena
– but ignored the Congress. On November 30, she met Maharashtra chief minister Udhav Thackeray's son Aditya Thackeray and party spokesperson Sanjay Raut.
After meeting NCP supremo
Sharad Pawar
at his residence on December 1, she spoke with mediapersons and mocked Congress-led UPA. She said: "What is UPA? There is no UPA now," and added, "we want a strong alternative."
In an interaction with civil society in Mumbai the same day, Mamata took a pot-shot at Rahul Gandhi and labelled him a reluctant politician who was abroad half the time. Without naming the Congress leader, she said, "If one does nothing and is abroad half the time, then how will one do politics? For politics there should be continuous endeavour."
Mamata may be presenting TMC as the alternative to the Congress but her party is yet to prove its mettle outside West Bengal. In the recently-held municipal elections in Tripura, TMC could win just one of the 334 seats despite the hype and groundwork of a few months. The ruling BJP won a whopping 329 seats.
TMC may be brimming with confidence after a victory in West Bengal but it has yet to prove itself outside the state. Goa is TMC's first destination before it challenges the Narendra Modi-led BJP juggernaut in the 2024 Lok Sabha election just as Punjab was the first halt for Arvind Kejriwal in 2014 Lok Sabha election.
Arvind Kejriwal's sojourn outside Delhi
Just as Mamata, Arvind Kejriwal had become the opposition's poster boy after his AAP government came to power in 2013 Delhi assembly election after being founded on November 26, 2012. It won 28 of the 70 seats, coming second to the BJP which bagged 31 seats. However, it formed the 49-day government with outside support of the Congress which was victorious on eight seats.
Elated over AAP's performance in Delhi, Kejriwal – who had resigned from CM's post and Delhi was under a spell of President's Rule – sought to challenge Narendra Modi and the BJP in the 2014 Lok Sabha elections.
AAP contested 434 of the 543 Lok Sabha seats with Kejriwal himself contesting against Narendra Modi, who was the BJP's prime ministerial candidate in Varanasi.
AAP's performance was a near disaster, winning just four Lok Sabha seats – all in Punjab.
Kejriwal himself suffered a humiliating defeat to Modi in Varanasi.
Subsequently, he focused on the 2015 Delhi assembly elections and AAP created a record by winning 67 of the 70 seats while the BJP bagged the remaining three.
Kejriwal was the centre of attraction in the swearing-in ceremony at Patna of Nitish Kumar as Bihar CM after the grand alliance of JD(U), Lalu Prasad-led RJD and the Congress defeated the BJP in November 2015.
The Delhi CM found himself in a controversy after he hugged Lalu at the dais.
However, Kejriwal made a promise to the voters after returning to power in Delhi – that he would not be over ambitious and that he would stay put in Delhi.
However, the Delhi chief minister did not keep his promise. In a bid to expand its base, AAP contested the Punjab and Goa assembly elections in 2017. It failed to perform as it had expected to.
It fared miserably in Goa where it failed to open its account.
Of the 117 assembly seats in Punjab, while Congress, led by former CM Amarinder Singh, emerged victorious by bagging 77 seats, AAP won just 20 and Shiromani Akali Dal (SAD)-BJP combine garnered merely 18 (SAD – 15 and BJP – 3).
Though AAP came a distant second, it drew solace from being the second largest party and becoming the main opposition party.
Instead of accepting the people's mandate in both the states, Kejriwal blamed EVMs and the Election Commission by alleging that the constitutional body was acting at the behest of the Modi government.
Kejriwal lost lustre after the drubbing AAP received in Goa and Punjab. It suffered further embarrassment by losing the 2017 Municipal Corporation of Delhi (MCD) elections to the BJP.
The 2019 Lok Sabha elections too did not bring cheer to Kejriwal. AAP won just one seat – that of Bhagwant Mann in Punjab – out of the 40 it had contested throughout the country. Though Kejriwal was in power in Delhi and had registered a historic victory in the 2015 state polls, it lost all the seven Lok Sabha seats in the national capital.
After suffering several defeats, AAP again concentrated on Delhi and won the 2020 polls. It won 62 seats – five less than it had won in 2015 – and the BJP remaining seven and registered an impressive win for the second consecutive time.
Though Arvind Kejriwal's dream run has hardly met success so far, it remains to be seen whether Mamata Banerjee is successful in her mission to go national.