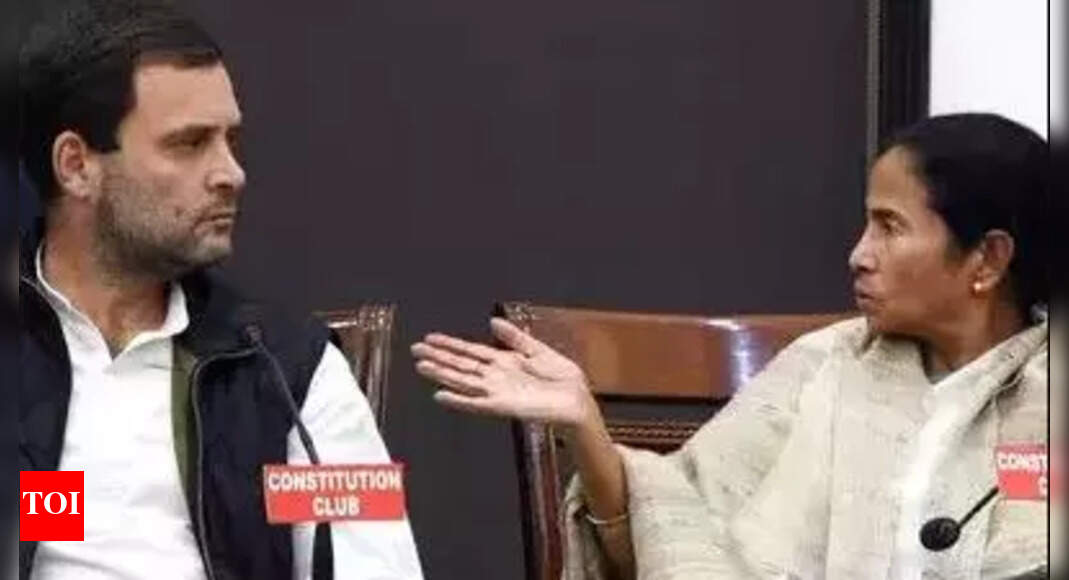 NEW DELHI:
West Bengal
chief minister
Mamata Banerjee
launched a frontal attack on Congress leader
Rahul Gandhi
by saying that he is abroad half the time. It is not the first time that the
Trinamool Congress
(
TMC
) supremo has made a personal remark about the Congress leader.
Mamata Banerjee is on a mission to expand the base of TMC outside West Bengal. During her three-day visit to
Maharashtra
earlier this week, she met NCP president
Sharad Pawar
on December 1. After her meeting, she questioned the existence of Congress-led
UPA
.
"What is UPA? There is no UPA now," she said and added, "we want a strong alternative."
In an interaction with civil society the same day, Mamata mocked Rahul Gandhi. Without naming him, she said, "If one does nothing and is abroad half the time, then how will one do politics? For politics, there should be continuous endeavour."
Not just Mamata but her political adviser
Prashant Kishor
too targeted Rahul Gandhi a day later.
In a tweet, he said, "The IDEA and SPACE that #Congress represents is vital for a strong opposition. But Congress' leadership is not the DIVINE RIGHT of an individual especially, when the party has lost more than 90% elections in last 10 years. Let opposition leadership be decided Democratically."
The IDEA and SPACE that #Congress represents is vital for a strong opposition. But Congress' leadership is not the… https://t.co/qc6DBHhMR7

— Prashant Kishor (@PrashantKishor) 1638429373000
Rahul Gandhi a 'kid'
In March this year, Mamata had called Rahul Gandhi a "kid". It was in response to the Congress leader's accusation that West Bengal was being run according to the "whims and fancies" of the West Bengal chief minister. "Bengal is being run by just one person… She neither talks to anyone nor takes anybody's suggestion. She does whatever she feels like," he had said.
Mamata Banerjee retaliated by launching a personal attack on Rahul Gandhi and said, "He has said whatever he felt like… I won't like to make any comment on it. He is just a kid. What will I say about it?"
Rahul Gandhi an 'upstart leader', like 'proverbial cuckoo'
Similarly in March 2014, ahead of the Lok Sabha election, Mamata had called Rahul Gandhi one of the "upstart leaders from Delhi".
"Upstart leaders from Delhi are saying a lot of funds are provided to West Bengal. Do you know accounts? Did you ever do it and do you know what work is? Do you know how funds come and are spent and how they are returned," Mamata told an election rally in Naxalbari in West Bengal.
The TMC chief said she did not want to take names because she felt ashamed. "I name such persons who are worthy to be named. I do not name those who are not worthy of it."
Mamata said these upstart leaders were the sons and daughters of "latsahebs and zamindars" who do not know about the poor and suffering. "You (Congress) were in power for 66 years," she said.
The TMC chief also referred to Rahul as a "cuckoo" which was seen only at certain times of the year.
"Throughout the year, I am with the people. I know their problems and they know me. I am not like the proverbial cuckoo that arrives in spring and disappears once the season is over," she said.