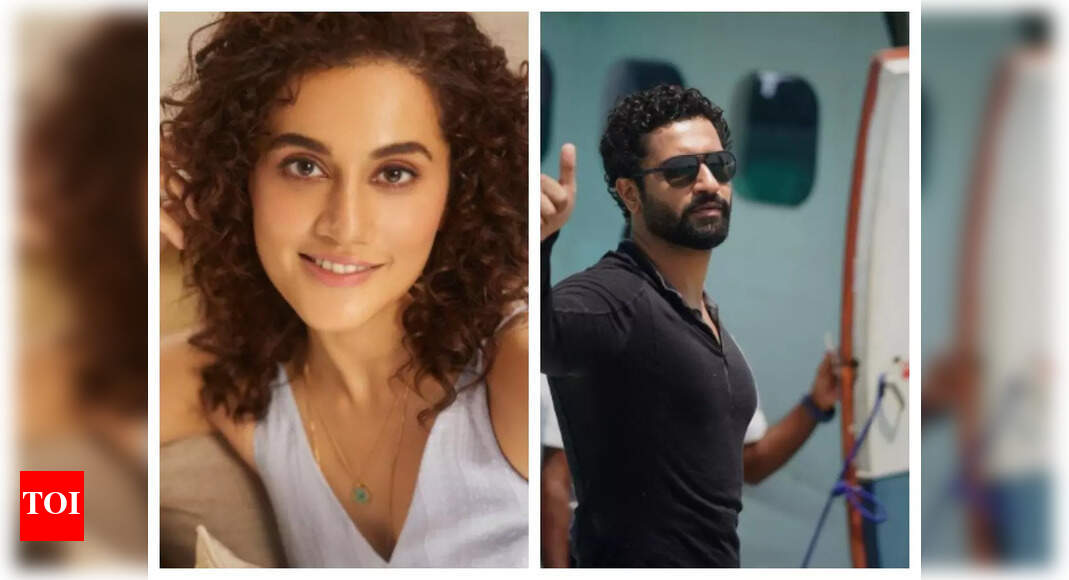 Taapsee Pannu
made her way to Bollywood with her brilliant performances in films with strong female characters like, '
Thappad
', 'Pink', '
Saand Ki
Aankh' and many others. Now, the actress is on cloud nine as her latest film 'Rashmi Rocket' is receiving a powerful response since its release.
In a candid chat with ETimes, the actress opened up about her determination and commitment to the preparation of her role in 'Rashmi Rocket', her take on Shah Rukh Khan's son Aryan Khan's arrest, on insider vs outsider and her journey in the film industry so far.

Excerpts…
You have shown incredible determination and commitment to the preparation of this role. What was it about Rashmi Rocket that inspired you to do so?

The story, I thought it was never mentioned before. The usual athlete struggle which we have in films before but this angle specific to a female athlete was never raised before in any film before. So, the uniqueness of this subject made me choose this role.
You have a naturally athletic frame, did your physique and personality make it easy for you to pick up the physical training?


It is very convenient to look at a person and say you have an athletic frame. But to portray an athlete on-screen requires much more. It was very challenging. I have never been a professional athlete. I love sports but never played any sports professionally. Because I love sports and admired athletes so much in my life. I wanted to make sure that I give my 100 percent when I come on screen especially as a female athlete. I don't think we have seen female tracking fields on-screen before. So, It was going to be the first time, I wanted to make sure that I give my 100 percent for the right representation. I knew it will take a lot of effort and hard work. But the storyline made me feel it was worth it.
Whether it's a sportsperson or an actor playing that sportsperson, everyone gets to witness an incredible physical transformation. But what about the mental preparation? It's not easy being an athlete, even if you have to be one for a film.


Mentally, the fact that they have to rise every day if they feel any kind of injury or uneasiness in any muscle of their body. And they have to believe that it will get fine and they have to work on repairing it and simultaneously training. They are trying to achieve a goal that is likely to be the best in the world. It is very difficult. Every day after training, I used to tell myself thank god, ' I am not an athlete in real life'.
Because to have that strength and to fight against your body sometimes, push it further, to make sure your taking care it also and it doesn't get injured. But you have to push it to the maximum limit. It's very difficult mentally to keep yourself going. One muscle injury and you can actually feel like giving up. So, mental strength is required for an athlete to keep going.
When you got trolled with the 'manly figure' remark, what was the most dominant emotion in your mind?


I was very happy. Because they just really helped in the promotion of my film by saying that. I think that's a compliment for me. Because I was trying to target that problem and they gave it to me on a platter. They just presented me the problem very easily without making any effort. So, it helped my film a lot. So, for me, it was a very good complement. But's it not the same for all the girls. Especially for one's who are not working on a film. That's not what they deserve to hear especially when they have worked so hard for the years to build a body like that. They don't deserve to hear all this.
Which character from all your films has been the toughest to play? And has any of your characters ever taken a toll on you?

This was very exhausting. It has been the toughest character, I have ever portrayed. So, it was mentally and physically very exhausting for me to play Rashmi.
In an ETimes interview, you had said that Vicky Kaushal is one of your favourite co-stars and now he's heaped praise on your performance in Rashmi Rocket. You two seem to have a deep respect for each other?


We are just good friends. No matter what happens, we know that we always have each other's back. It is confined to films to each other's films. Whenever I and Vicky speak, we barely about our films and work. We talk about everything beyond our work. So, I think that's just friendship, we would want to stand by each other.
An actor can go through many physical transformations throughout their career, of losing weight, gaining weight, adding muscle etc. But are such endeavours, especially when they become drastic transformations, healthy for the person doing them in the long run?


I can speak about my transformations. I made sure that I did not take any steroids or any kind of shortcuts to build that kind of body. Because I knew that I have a life beyond that one film. I have to get back to my regular life. So, I cannot play with my body. So, I did it in a very real, natural and organic way. Without damaging my body. I know there are so many ways to do these things quickly. So, I did not want to take that. Later on, it has bad effects on your body.
So, it's a harder and difficult route. But if you choose that route, your body stays fitter for a longer time.
Why is your production house called Outsider Films? Do you truly believe that is the one singular identity of your film career?


I am an 'Outsider ' that will always remain an integral part of my introduction on any platform. This is one common thread I keep hearing on every introduction of mine. So, I would love to own it up.
On the flipside of the outsider argument, considering what's going on with Aryan Khan right now and similar criticism has happened to many star kids in the past. Do you think it's probably tough to be an insider and star kid as well?

It's very sad that we as celebrities face the brunt of things more than anybody would else have. We do good then also we have appreciated more than any common person. Something wrong happens to us, we are criticised much more. So, that's a sad part of being a celebrity.
Every boy in India probably considers a sporting career when they're in school. Is it the same for girls, too? Or are their choices different? Did you ever think you would have a career in sports?

I did not really take it seriously ever. But I used to love sports. I never thought that I will be a professional athlete. Maybe because I never one particular sport for a long time. Probably would have, then may I would have tried. But I know so many girls and boys, who at an early age started working towards particular sports. I really admire that and I am a really huge fan of sports stars.
Did you ever compete with Shagun when you were kids? Are there any situations when the two of you still compete with each other?

No, we have always been on the same side of the competition.
A lot of kids learn sports from their parents. A lot of us have our first race or cricket match with our fathers. Do you have any such memories with your dad from childhood?

My father used to play Hockey at the university level. But I think he left that very early. He went into a regular job. So, maybe that athletic gene, I got from him. Yeah, I don't think my parents inspired me to become an athlete or so an athletic role today. It's my own love for sports.
You've said in the past that you will never date a star. Will you consider dating a sports person though? If yes, which sportsmen are at the top of that illustrious list?


Yes, Why not, I have a huge crush on Andy Murray.