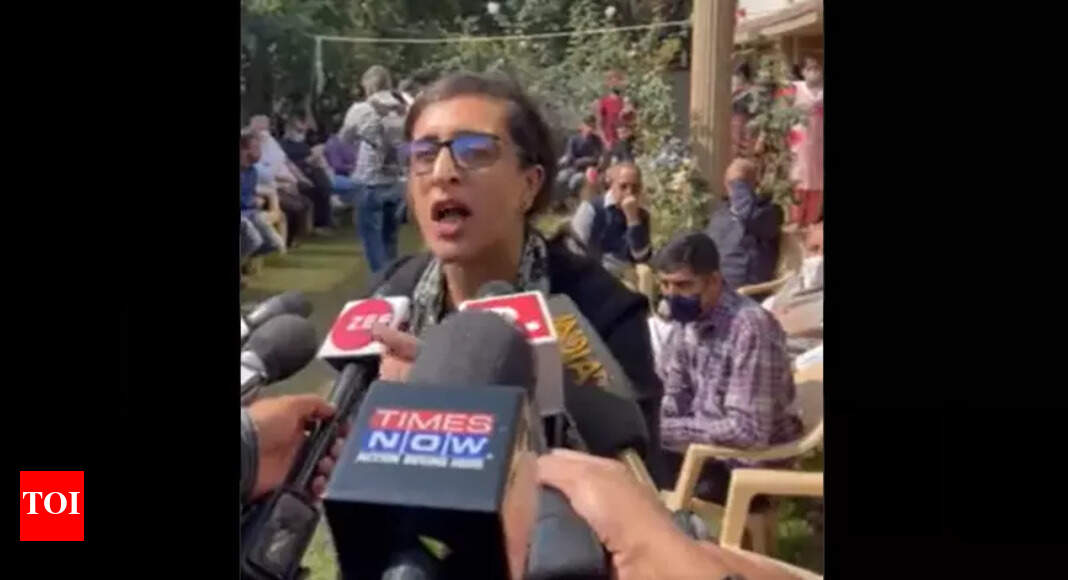 NEW DELHI. A day after 68-year-old
Kashmiri Pandit
,
Makhan Lal Bindroo
, was shot dead by terrorists in J&K, his emotionally charged-up daughter,
Shraddha Bindroo
, on Wednesday slammed terrorists for displaying cowardice by killing civilians.
"My father was a Kashmiri Pandit, he will never die. Terrorists can only kill his body, my father will remain alive in the spirit," she said in a video that has now gone viral.
"My father Makhan Lal Bindroo a Kashmiri Pandit will never die. You can just kill the body and he will be alive in… https://t.co/haTFjbhIbY

— Sohil Sehran (@SohilSehran) 1633498108000
She further challenged terrorists to come and have a face-to-face debate with her.
"These terrorists can only pelt stones and kill innocents, that's all they can do. They have no guts to debate," she added.
Speechless. Over the grace and courage. And truth.. from the daughter of ML Bindroo killed last evening. Asst. Prof… https://t.co/mweXWYWl5t

— Khushboo Mattoo (@MattLaemon) 1633503237000
Along with street vendor Virender Paswan and local taxi stand president MS Lone, Bindroo was among three people shot dead by terrorists in J&K on Tuesday.
Bindroo, owner of Bindroo Medicate in Iqbal Park, took four bullets in the abdomen as pistol-wielding terrorists fired at him from point-blank range after barging into the pharmacy. He was declared dead on arrival at SMHS Hospital.
Within an hour of the attack on Bindroo, terrorists killed bhelpuri vendor Paswan from Bihar's Bhagalpur at Alamgari Bazar in the old city's Zadibal neighbourhood.
Bindroo's killing comes less than four months after another prominent Kashmiri Pandit, BJP councillor Rakesh Pandita, was shot dead by terrorists in south Kashmir's Pulwama.