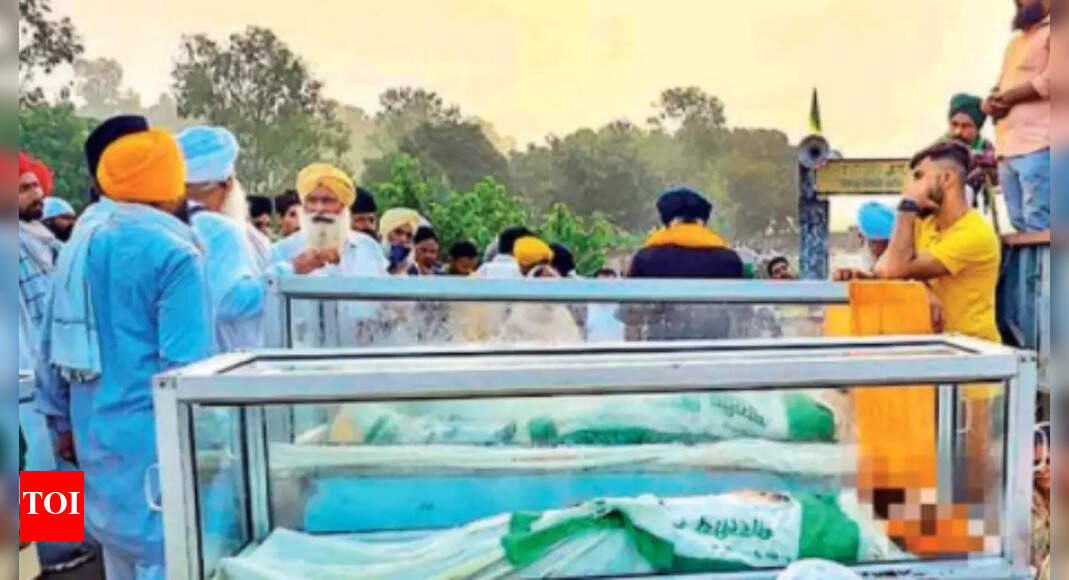 BANBIRPUR (LAKHIMPUR KHERI): The moment one enters the
Banbirpur village
, a thick veil of silence drops suddenly. Eight people had died in violence during farmers'
protest
here on Sunday. By the following morning, it had turned into a fortress. Every 10km along the 80-km stretch from
Lakhimpur Kheri
to Banbirpur village,
farmers
had set up barricades. Each vehicle was stopped, the purpose of visit asked and then a decision taken if it could be allowed to pass. The police barricades along the way — there were barely five — did no such checks.
The road where the killings took place — four farmers, three
BJP
workers and a journalist — is just outside the village and close to the India-Nepal border, leading to Tikunia. The track marks of the vehicles that allegedly ran over farmers were fresh, slippers and shoes pressed into the mud, perhaps of farmers trying to flee. The road was littered with flags, posters and banners, remnants of the peaceful protests that took a bloody turn in seconds on Sunday. The two burnt down vehicles that were part of the Union minister
Ajay Mishra
Teni's convoy still lie there — a Fortuner and a Thar.
Right next to the road stand four buildings — three single-storey houses and a power sub-station office.
"I was outside my house-…around 3-3.30pm I heard shouts and screams for help. Two cars were speeding mercilessly ahead, crushing everyone in their paths. Had a bus not come in the way of one of the cars, many more would have been killed. In the confusion, gunshots rang through the air. Four people came out of one of the cars, a Fortuner, and I saw them open fire," said a fish farmer who lives in one of the three houses. "I ran inside, into my house. The gunfire continued. When I stepped out after half an hour by the back gate of my house, I heard a man had run away with help from the police. That man had fired into the group of farmers twice." Five cops — two women constables and three policemen — had taken shelter at his house when the violence escalated. "They, too, were scared because of the gunfire. They advised us to stay in as well."
At the power sub-station, there were around 10 people at the time. "Myself, our junior engineer and 8 staffers," said power substation officer Rakesh Kumar. "We locked ourselves in and told everyone not to step out. The gunshots went on for a while."