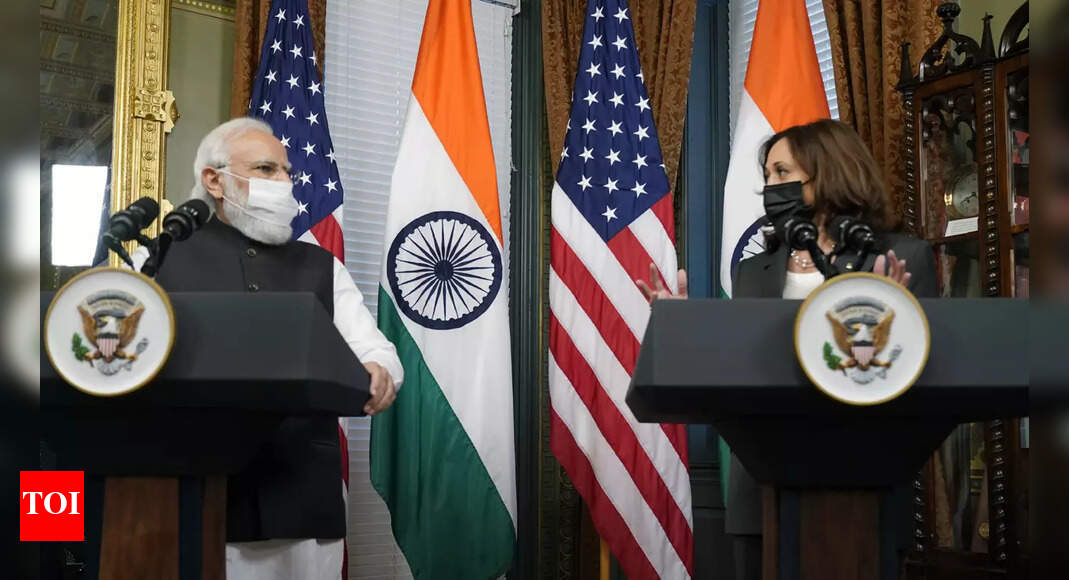 WASHINGTON:
Pakistan
's role in fomenting terrorism in
Afghanistan
and India continues to worry the United States, even as China has now become the elephant — or dragon — in the room in ongoing talks between New Delhi and Washington.
US vice-president Kamala Harris "suo motu" referred to Pakistan's nettlesome policy on terrorism and asked Islamabad to take action so that it does not impact on American and Indian security, Indian officials said on Thursday following her exchanges with Prime Minister Modi, even as Islamabad complained bitterly about the US-Pakistan agenda being restricted to what it needs to do vis-a-vis Afghanistan.
"When the issue of terrorism came up, the vice president suo motu referred Pakistan's role in that regard… She agreed with the prime minister's briefing on cross border terrorism, and the fact that India has been a victim of terrorism for several decades now and on the need to rein in, and closely monitor Pakistan's support for such terrorist groups," India's foreign Secretary Harsh Vardhan Shringla said at a briefing on the talks.
The decision on holding Pakistan's feet to the fire came even as US Secretary of State Antony Blinken met his Pakistani counterpart Shah Mehmood Qureshi and transparently identified its role in Afghanistan as the primary agenda item in their talks.
Qureshi bristled at this, saying, "As you said, we've had three telephone phone conversations discussing the regional situation, the Afghan situation. I thought a time would come where we'd be talking beyond Afghanistan, but it seems Afghanistan is there, we can't wish it away, and we have to find a way of collectively working to achieve our common objective, which is peace and stability."
"So it gives me a good opportunity to discuss the evolving situation in Afghanistan, to discuss our bilateral relations, and the delicate situation in South Asia," he added.
He later tweeted: Met @SecBlinken & reiterated Pakistan's focus on a relationship anchored in trade, investment, energy & regional connectivity. On #Afghanistan, PM @ImranKhanPTI consistently stated there is no military solution & is committed to facilitating inclusive political settlement.
But a State Department readout of the talks did not mention anything besides Afghanistan. "Secretary of State Antony J. Blinken met today with Pakistani Foreign Minister Shah Mahmood Qureshi and discussed the way forward in Afghanistan. Secretary Blinken reiterated the importance of coordinating our diplomatic engagement and facilitating the departure of those wishing to leave Afghanistan. The Secretary noted that the United States appreciates Pakistan's support and assistance with both of these efforts," it said.
Pakistan has been fuming at what it sees as repeated snubs from the US, including President Biden not evening phoning Prime Minister Imran Khan, let alone inviting him to Washington for talks amid the turmoil in Afghanistan.
The country's National Security Adviser Moeed Yusuf complained about the slights during a visit to the US and Imran Khan himself griped in a recent tv interview that Biden must be a very busy man when asked why he had not received a call.
Many US analysts believed Pakistan milked Washington for billions of dollars in civilian and military aid because of US reliance on Islamabad for access to landlocked Afghanistan. Now that the US has pulled out of Afghanistan, Pakistan has lost that leverage even as it has embraced the troubles in Kabul.