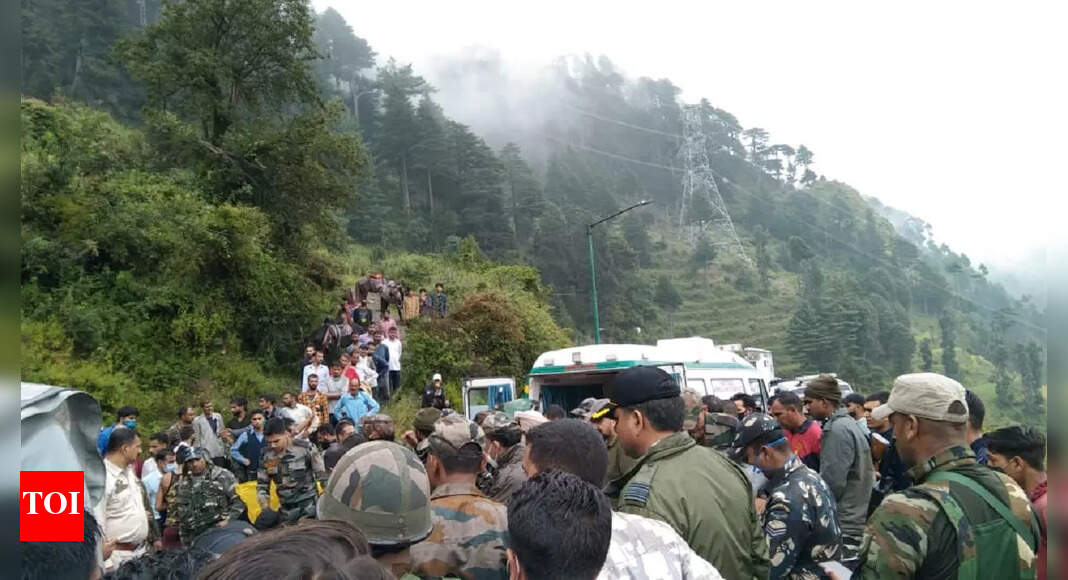 JAMMU: An
Army
chopper reportedly crash landed due to foggy weather conditions in Shiv Dhar hills of Pantitop area in
Udhampur
District of
Jammu
and Kashmir on Tuesday resulting injuries to two persons on board, an army official said here.
Sharing brief details of the incident Defence spokesman
Jammu Lt
Col Devender
Anand
said, "Today during a training sortie in Patnitop area, an Indian Army
Cheetah Helicopter
crash landed in Shiv Garh Dhar area in Udhampur district."
"Two pilots have been injured and evacuated to the hospital, Col Anad said, adding, "further update follows."
As per sources,"The incident occurred in the Shivgarh Dhar area of the district between 1030 hrs- 1045 hrs' '.
"One of the two injured one individual with Surname 'Rajput' was evacuated by the locals who were first to respond to the incident, they said, adding
the helicopter belongs to army aviation corps.
Deputy Inspector General of Police (DIG) Udhampur-Reasi Range Suleman Chowdhary told media persons in Udhampur that information about an incident is received and the teams have been dispatched to the spot.
DIG added that it is not clear whether it was a crash or crash landing by the helicopter due to bad weather conditions in the area .
Earlier on August 3, Army chopper crashed into the Ranjit Sagar Lake Dam in Basholi area of Kathua district.
In a similar army aviation accident, on February 03, 2020, an Indian Army Chetak helicopter, flying from Udhampur on a training sortie, crash landed at Rudkhud near Reasi in Jammu and Kashmir.
Prior to this in a major crash landing of an Army chopper, Northern Army Commander
Ranbir Singh
had a close shave on October 24, 2019.
Pertinently Northern Army Commander, Lieutenant General Ranbir Singh, along with six others had a narrow escape when the helicopter they were flying in crash landed in Poonch district of Jammu and Kashmir
A year ago i.e. on May 23, 2018, an Indian Air Force (IAF) Cheetah' helicopter with four people onboard including two crew members also had crash-landed at Natha Top near Patnitop in Udhampur district of Jammu and Kashmir.