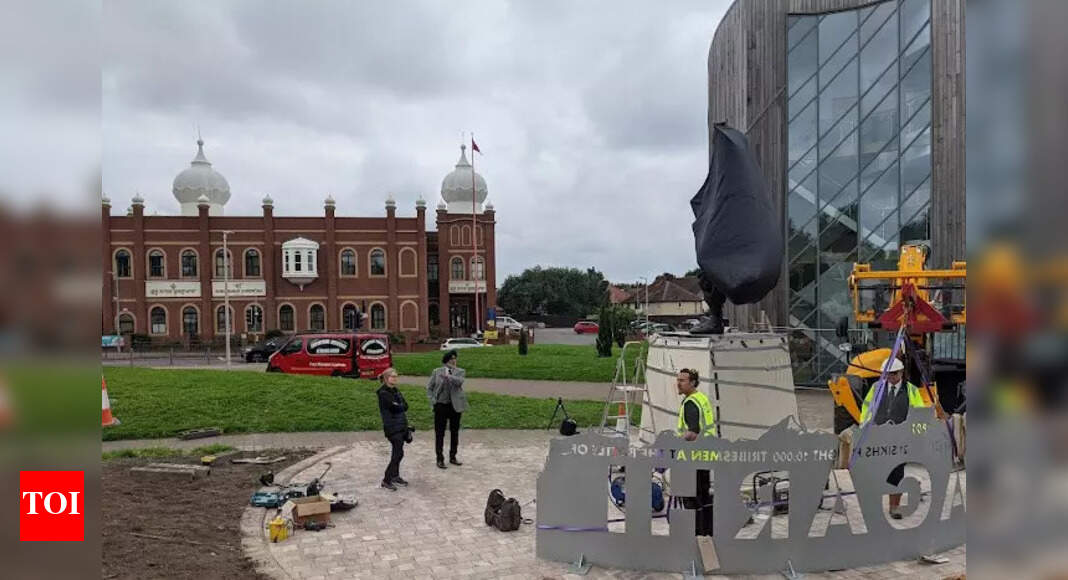 BHATINDA: One hundred and twenty four years after the Battle of Saragarhi, the army of 21 Sikh soldiers and a Muslim cook, who showed exemplary courage in the fiercely fought battle, will be immortalised in a United Kingdom town on September 12. A bronze statue of Havildar
Ishar Singh
— who led the army of 22 against thousands of Pathan tribesmen — installed on a six-feet-tall plinth, where names of all the martyrs have been inscribed, will be unveiled at
Wednesfield
on the suburbs of
Wolverhampton
on the occasion of the 124 anniversary of the epic battle.
The 10-feet-tall bronze statue of Ishar Singh holding a small sword has been named Saragarhi Monument.
The battle of Saragarhi was fought on September 12, 1897, where the 22 bravehearts from the 36th Sikh Regiment of the British Indian Army stood firm against an onslaught of thousands of Pathan tribesman at the Saragarhi post between two forts in North-west Frontier Province, now
Khyber Pakhtunkhwa
in Pakistan. They had killed numerous tribesmen before laying down their lives.
The Battle of Saragarhi is listed amongst the top eight battles of collective bravery by
UNESCO
.
Though two gurdwaras have been built in Amritsar and Ferozepur in the memory of the Saragarhi heroes — the Ferozepur memorial being in dire straits — it is the first instance that such a monument has come up in the UK. With the initiative of Wolverhampton City Council, especially councillor Bhupinder Singh Gakhal, in collaboration with Guru Nanak Gurdwara committee and sangat, the monument has been built on the gurdwara premises.
Gakhal told TOI over phone from Wolverhampton that raising the monument of Saragarhi is like a dream come true. "We used to hear about the heroic tales of the valour and gallantry of 21 warriors, but never had thought that we will be able to immortalise them at our own place. It is because of 1 lakh pound collected by sangat and 35,000 pounds contributed by Wolverhampton council that the monument could be ensured.
"A 10-feet-tall bronze statue of Havildar Ishar Singh has been erected on a six-feet-long plinth where names of all 22 soldiers have been inscribed. An eight-metre steel plate, depicting a mountain range and strategic outposts, too form part of the Saragarhi monument."
He added Akal Takhat Jathedar Giani Harpreet Singh, British MPs and army officers will turn up at the inauguration. The army will play its band and gun shots will be fired as a tribute to the fallen soldiers.
Guru Nanak Gurdwara stage secretary Paramjit Singh said that it will be a moment of pride for the Sikh community, not only in England but the entire world, when the monument is unveiled on September 12 in the presence of the sangat.
Saragarhi was only instance in the history of warfare, where 21 soldiers were posthumously awarded with Indian Order Merit, the highest award given to Indian soldiers at the time, which is equivalent to present-day Param Vir Chakra.
A delegation of British Army officials, led by Brigadier Celia Jane Harvey, had earlier visited the Saragarhi Gurdwara at Ferozepur in 2019.