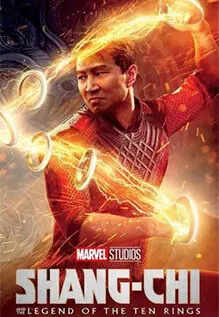 Story:
A heartfelt origin tale of Marvel's first Asian superhero Shang-Chi (Simu Liu), the film traces his complex relationship with his dysfunctional family and true calling.
Review: Sean (Simu Liu) and his Emma Stone-esque quirky best friend Katie (Awkwafina), are two happy slackers. They are uninspired and quite content with their minimum wage (valet driver) jobs in San Francisco. The duo's routine banter and unambitious lives take a dramatic turn when Sean is compelled to confront his past. A spectacular hand-to-hand combat sequence aboard a bus gives away Sean's true identity — Shang Chi, the ultimate warrior.
Shang is summoned by his father Xu Wenwu a.k.a. the Mandarin (the legendary Tony Leung), a centuries-old Chinese warlord and the bearer of the powerful 10 rings. The rings make him invincible. Can the righteous son take on his immortal father with questionable morals?
Director Destin Daniel Cretton's latest MCU entry is one of the best solo Marvel films and most pleasing to the eye in a long time. Beautiful action choreography dances to spiritually captivating music by Joel P. West. The exquisite visuals transport you to the serene landscapes of a mythical land.
After a rather formulaic Black Widow and watchable MCU tv series, we finally have a winner that reminds you what big screen spectacles are made of. Cretton pays resounding homage to the exotic culture, mythology and martial arts of the East, while retaining the classic Marvel tropes — action, situational humour, bickering best friends and family. He also celebrates platonic love which is a rare feat.
The film rides high on emotions and who better than Wong Kar-Wai's muse — the iconic Tony Leung to do the needful. The legendary actor and his soul piercing eyes command attention, empathy and anger without resorting to speech. While Simu Liu's candour and fitness is apt for the titular role, Tony is the hero in his own way. His charisma hard to compress for a superhero movie template, Cretton's brief to Tony is clear — you do you. A decision that works like magic. He locking eyes with his screen love interest Jiang Li (Fala Chen) during their intimate fight sequence is the best scene of the movie. Tony lends a deeper meaning to his character.
From a brilliant first half to a high on CG climax, Shang Chi feels a tad predictable in the second half. But it never fails to keep you on your toes. Before Marvel goes crazier with its multiverse and erratic timelines, here's a deeply humane father-son tale that can be watched by the non Marvel brigade as well.
Shang-chi has a certain spiritual calmness to it amidst the gorgeously choreographed action sequences. Never has a Marvel movie felt this unique in its execution and treatment. If you are looking for a film to end your big screen abstinence, this is the one.