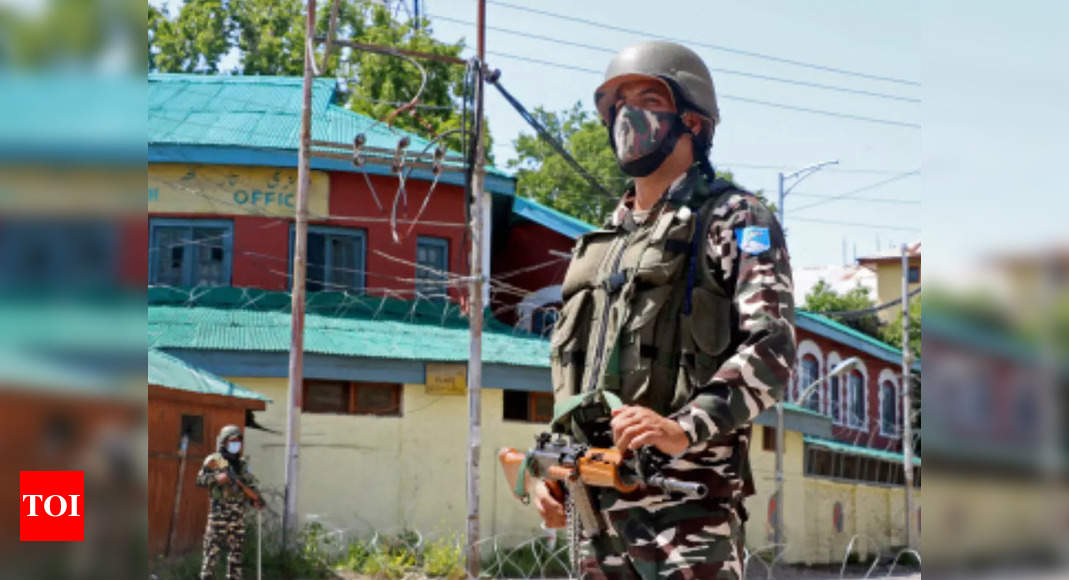 SRINAGAR: A most-wanted Jaish-e-Mohammad
terrorist
involved in the assassination of
BJP councillor
Rakesh Pandita and a rash of other killings across J&K was among three ultras shot dead in an
anti-terror operation
in the Tarsar-Marsar forest area of Tral in south Kashmir's
Pulwama
district early Saturday.
IGP Kashmir Vijay Kumar identified slain Wakeel Ahmad Shah from Tral as the mastermind of multiple attacks on security forces and civilians whom Pakistan-backed Jaish suspected to be police informers. After killing Tral municipal committee chairperson Pandita in Pulwama last June, he led the brazen strike in which special police officer Fayaz Ahmad, his wife and daughter were shot dead at their Hariparigam home, the IGP said.
Shah is also known to have had a hand in the killing of Tral residents Shabir Ahmad Bhat, Mohd Ayoub Ahanger and Shakeela Begum.
The operation in which the Jaish terrorist and two unidentified accomplices were killed was launched on Friday after the Army's 42 Rashtriya Rifles received intelligence inputs about the outfit's presence in the upper reaches of the forest area in Tral's Nagaberan Dhoka. A J&K police team joined the Army in the cordon-and-search exercise.
"Today (Saturday) morning, there was a gunfight with three terrorists, all of whom were killed," said Victor Force commanding officer Maj Gen Rashim Bali, who was with the IGP at the joint press conference in Awantipora. "The trio had been active in south Kashmir for a long time," Maj Gen Bali said.
Two AK-47 rifles, an SLR, a grenade launcher and some magazines were found on the slain ultras.
IGP Kumar said security forces were going all out to not only track terrorists active in the Valley but also thwart possible infiltration attempts from across the India-Pakistan border, including by Taliban elements. He said the killers of Apni Party functionary Ghulam Rasool Lone would either be arrested or eliminated soon.
On how security forces planned to tackle the situation in the event of the Taliban making inroads into Kashmir, Kumar said the police had activated human and technical intelligence to detect any such infiltration attempt. "If at all any such thing happens, I, as a police officer, assure the people that J&K police, the Army and other security forces will deal with the challenge professionally," he said.
The terrorists killed in Bandipora recently had apparently infiltrated the Valley earlier this year.
"After carrying out terror attacks on civilians and political functionaries, the perpetrators are usually holed up in the woods. We will not just track terrorists in the hinterland but in the forests, too," the IGP said.
Asked about the resurgence of political killings in J&K, Kumar said it wasn't for the first time that terrorists were targeting politicians. "Netas have been under attack since 1989. We can't provide security to all, but those vulnerable and facing threats must approach us and we will provide them security cover," he said.