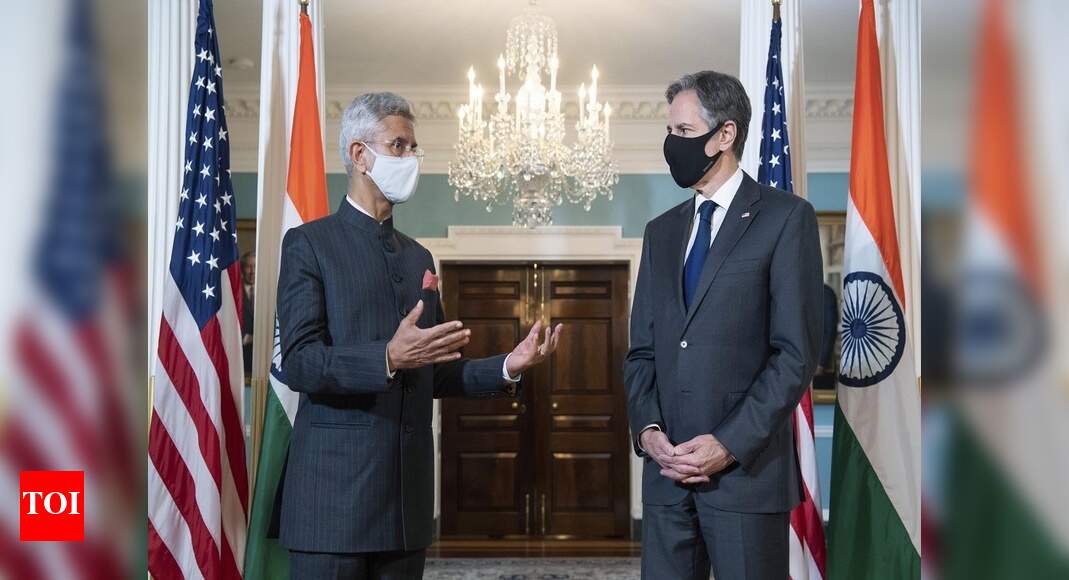 NEW DELHI: Foreign minister S
Jaishankar
on Friday met US Secretary of State
Antony Blinken
and discussed a range of issues, Covid-19 pandemic,
Indo-Pacific
cooperation and the
Quad
grouping.
The first Indian minister on an official visit to US since
Joe Biden
assumed the Oval office, Jaishankar had earlier met US National Security Advisor (
NSA
) Jake Sullivan,
Defence
Secretary Lloyd Austin and a group of eminent business leaders.
Here are the key highlights from his meeting with Antony Blinken:-
'Quad fills very important gap that has emerged in contemporary times'
The informal Quad grouping in the strategically vital Indo-Pacific region comprising Australia, India, Japan and the US fills a "very important gap" that has emerged in contemporary times and New Delhi has clarity on its membership in it, Jaishankar said.
"Quad today fills a very important gap that has emerged in contemporary times, where there are global or regional requirements, which cannot be filled by a single country. It cannot even be filled by one bilateral relationship, and which is not being addressed at the multilateral level," said Jaishankar.
"Quad is an expression of the convergence of interests of many countries. It is in many ways a reflection of the contemporary nature of the world, where it is not a set of, you know…., at some stage, we have to put the Cold War behind us. It is only those who are stuck in the Cold War who cannot understand Quad," he added.
The grouping has been a thorn in China's eye, with the dragon repeatedly warning other states to stay out of the Indo-Pacific area.
Without naming any country, Jaishankar said there are "many, many concerns" which have to be addressed by somebody.
'US recognises India is important part of conversation on Afghanistan'
Jaishankar also discussed the situation in Afghanistan with Blinken and NSA Sullivan and said US recognises the role of India in this issue.
"The possible scenarios, once the US military draws down is obviously something which matters to us, it matters very much to Afghanistan, it matters to the United States, and it has a larger regional resonance," Jaishankar said.
'Vaccine, Covid-19 important part of discussions in the US'
Calling Covid-19 pandemic and vaccines as one of the most important aspects of his discussions with top officials of the Biden administration,
External Affairs
Minister S Jaishankar on Saturday said the endeavour is to expand production of vaccines in India with assistance from the United States.
"There was also of course the Covid-19 context because of the vaccine partnership between India and the US, and also Quad-based discussions on vaccines. That was also one of the important subjects. In fact, in many ways, I would say the most important subject of my discussion," said Jaishankar.
'Want to
thank US for strong support at India's moment of great difficulty'
I want to express our gratitude to the administration and US for strong support and solidarity at the moment of great difficulty for us."
Blinken said the US and India are working jointly on many important challenges of "our time".
"We are united in confronting COVID-19 together," he said.
"The partnership between the US and India is vital, strong, and I think it is increasingly productive," Blinken added.
India-China border issue, Myanmar coup, also discussed
A US spokesperson said Jaishankar and Blinken discussed regional and global cooperation between India and United States, including joint efforts to address a range of regional issues, such as China, Burma and Afghanistan,
"The United States and India have strengthened our cooperation in the region. Over the course of the past year, we have worked together to address a range of regional issues such as China, Burma and Afghanistan," said Dean Thompson, the Acting Assistant Secretary, Bureau of South and Central Asian Affairs, US.
(With agency inputs)