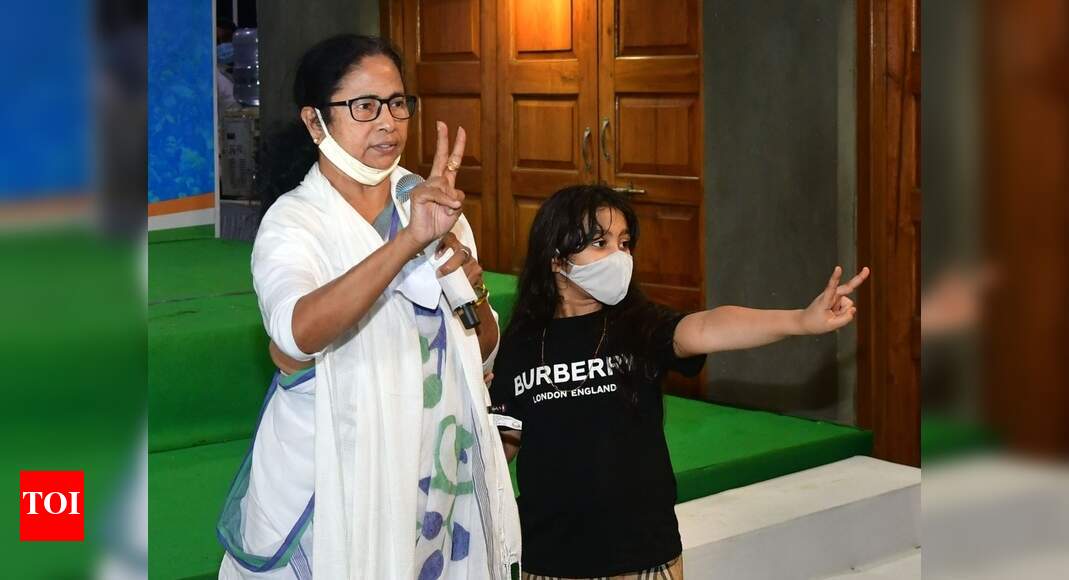 KOLKATA: Mamata Banerjee won the most important match of her life as Bengal's voters reposed their faith in their "nijer meye (own daughter)" and propelled her to office for a third straight term. Her party, Trinamool Congress, comfortably went past the two-thirds mark in the 294-seat assembly, leading in 214 constituencies till late on Sunday evening and bagging an unprecedented 48% of the popular vote.
The victory, however, was rendered somewhat bittersweet by a narrow defeat for Mamata in Nandigram. The Election Commission website declared BJP candidate Suvendu Adhikari the winner by 1,956 votes around 11pm after a cliffhanger of a day.
That was, however, the only spot on a resounding Trinamool victory. BJP officially became the state's main opposition party but finished a distant second despite making significant gains. The party led in 76 seats at the time of writing this report — up sharply from 3 in 2016 — and netting 38.1% of the vote. The 2021 Bengal assembly poll result also confirmed the terminal decline of the Left Front and Congress; their combined vote share was a little more than 8% and neither led in a single constituency (as of midnight on Sunday).
This would be the first time CPM would be drawing a blank since 1967 when it first fought an election in Bengal after its split from the Communist Party of India. It would also be the first time Congress would not have a seat in the state assembly. Their poll partner, the Indian Secular Front, won a seat but its share of the popular vote could not be confirmed. Ultimately, the 2021 assembly poll completed a process of churning within the opposition space, but not in Bengal.
The assembly poll result may have repercussions beyond Bengal. Mamata would be looking to consolidate her gains in Bengal by getting together all anti-BJP forces and may become a rallying point for the opposition for the 2024 LS poll; she indicated as much towards the end of her campaign. Crucially for BJP, it may miss being in office in a state that sends a substantial chunk of 42 MPs to the LS.
Trinamool's 4% increase in vote share from the 2019 Lok Sabha poll (when it got 43.6% of votes) coincided with a 2% dip in the BJP's share of votes (from its 2019 share of 40.6%). What would have also buoyed the Trinamool was a consolidation of anti-BJP and minority votes in its favour, which would explain Congress and the LF's decimation.
The flurry of people friendly schemes, like Duare Sarkar, Khadya Sathi and Swasthya Sathi, and the schemes targeted at women like Kanyashree, also proved critical for Trinamool. The party put its best face forward — a CM in a wheelchair with an injured foot, with the catchy "Bangla nijer meyekeyi chay (Bengal wants its daughter)" slogan — as BJP struggled to get a decent local face to counter her. Trinamool made strong recoveries in pockets of North 24-Parganas, Hooghly and Howrah. It also held on to its bastions in and around Kolkata as well as those in South 24-Parganas, East Midnapore and East Burdwan, helping it lead in more than 200 seats.
BJP's attempts at polarising helped it hold on to some north Bengal districts like Coochbehar, Jalpaiguri and Alipurduar. But its failure to counter Mamata's "anti-outsider" slogan — used against the frequent visits of PM Narendra Modi and home minister Amit Shah — and her portrayal of BJP as a party overly dependent on "outside support (of leaders from other state)" became a handicap.
BJP might have also believed too much in defectors. Adhikari himself may be set for a narrow win but failed to deliver his own district, East Midnapore; Trinamool led in 10 of the district's 16 seats.