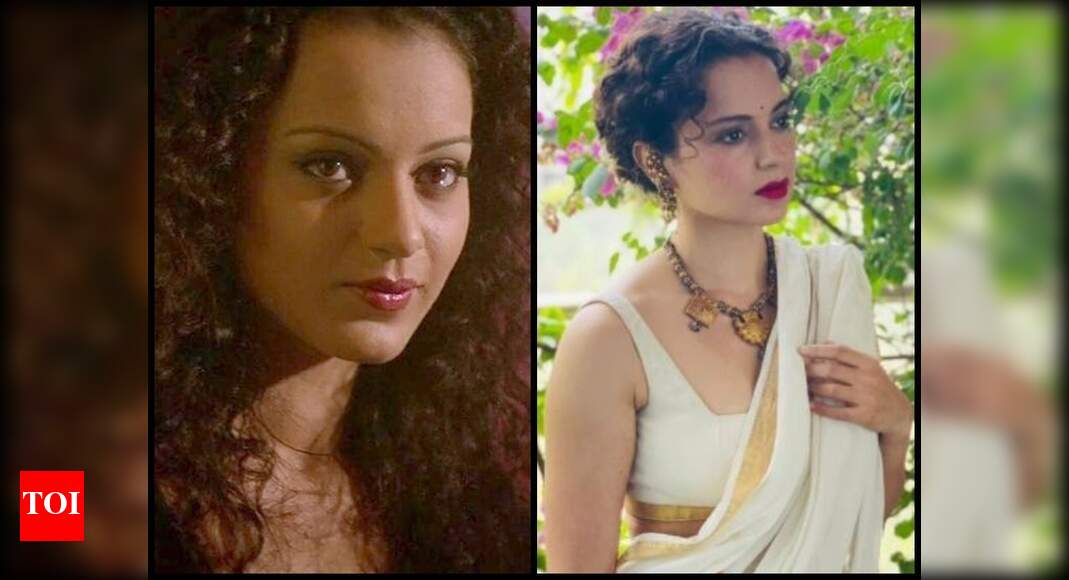 After starting off as a model,
Kangana Ranaut
bagged a role in Anurag Basu's much-loved film '
Gangster
' and left everyone mighty impressed with her solid debut performance. From its storyline to the direction and soothing songs, 'Gangster' was a perfect mix. And since then, there has been no looking back for the actress. The film also starred
Emraan Hashmi
and
Shiney Ahuja
in key roles. As the film clocks 15 years of release today, ETimes got in touch with Kangana, who spoke about her inspirational journey. She spilled the beans on how 'Gangster' happened, her perfect debut with
Anurag Basu
's film, how Javed Akhtar and
Shabana Azmi
called her after watching the film and more! Excerpts:
It's been 15 years in the industry. You started off your career with a bang with 'Gangster'. How does it feel?

Oh yes, it's 15 years now! (smiles) To be honest, it feels great. When 'Gangster' happened, I was in desperate need of work and it was seeming like forever. I had left home and stayed in Delhi trying to figure out what I wanted to do and then I was struggling in Mumbai doing ads. I wasn't getting much success in modelling. Even though it was quite quick, within a few months of being in Mumbai I got this break but yet everyday rejections and every day failing in auditions, it just felt so demotivating. But surprisingly when I got this ad, I got another one or two films and one of them was a South film which became quite a big hit. So suddenly it just happened that I was so wanted as a struggling newcomer. People used to say that actresses have a shelf life of 4-5 years and I used to wonder why people say something like this? Are we some product off the shelf? It used to feel so odd, even as a teenager when people used to say something like this to me, especially some Lokhandwala managers I used to have at that time. Everybody used to talk about shelf life and look, it's been 15 years. It feels good and I am on top of my game and I feel that I have a long way to go. So to hell with all those who said that actresses have a shelf life of 3-4 years.

Can we say that you got a perfect debut one can ask for?


It was a perfect debut for me for sure. To be working with Anurag Basu and that school of art…I was trained in theatre, I was not trained in movies and to be working under Anurag was the biggest USP of 'Gangster' for me. He is a terrific director and a very instinctive, creative person. At the same time, he has a theatre background so he understood me and where I came from. In addition, he is a very good actor himself. So he told me things about films, how they differ from theatre and how I need to completely internalize my acting as opposed to a very theatrical way of acting. So I would say that it was a perfect break for me but yet, coming from that route it was a struggle also from parallel cinema. During that time, it was a one-of-a-kind film that did well. There was no market for such films and such actors. I was very unconventional for a mainstream actress. Anurag enhanced that about me. I was so skinny and had curly hair and he enhanced all that and that made me even more unfit. So for many years, I was doing those homeless kinds of edgy roles which were very difficult. I was 16 when I started and finally with 'Tanu Weds Manu', I was 23 or 24 and had just broken free of those edgy, neurotic characters (laughs). So in a way, it was very good for me to be launched in that way.
How did 'Gangster' happen?


I was in Mumbai and was sent for some auditions. There were these models who were going to Vishesh films for 'Gangster' auditions and I tagged along because I had that look. Even my manager encouraged me. My friend Mohit took my audition. He didn't even audition me actually. I was sitting there and they refused to audition me and basically rejected me before they could audition me. So I left and my pictures reached Anurag and I got a frantic call in a few days that 'you have to come and meet the director'. I replied saying that 'I have already auditioned and met the director'. They said, 'No, the director has never met you.' It was actually the AD's who were doing auditions. So I went to meet them and Anurag started auditioning me for various scenarios like being drunk, crying, being homeless and gave me some lines and then he got a camera and said that I did well. But I didn't know if I had the job or not. Later I found that there was some conflict internally to cast me as a model in the film as I was a minor myself and it was impossible for me to have a child at that age. But Anurag liked me in a way that I looked for the role and for a long time I was hanging in there.
So the funniest thing happened. Before the shooting, we were supposed to go to Seoul, South Korea for the shoot and I was such a kid. The production boy came to the rented apartment I was staying at. He came and told me, 'we want your passport and I replied 'What is that? '. I didn't know what a passport was. He looked at me horrified and went back to Anurag who later called and said '
Ye kya ladki hai tu, pagal hai kya tu? Kaha se aayi hai?" (laughs). He also said that I might lose the role. That time I was not talking to my father, but I called him to ask about the passport. Mukesh (Bhatt) sir had called me and had the same reaction. He told me, '
Beta, tumhare pass passport nahi hai, kaha se aayi ho tum?' (laughs). They started to audition other girls for the role. I pleaded to my father to get the procedure done. At that time it used to take 3-4 months for it. In the end, my father pulled some strings and got the passport. Anurag was the happiest person because they were looking for my replacement. Literally, it was like one of those climax moments in movies that you get it done at the last minute. It is another story where they forgot to write my surname and at every airport, everyone asked me, 'hey, you don't have a surname?' That's another story for another day.
Do you remember the best compliment you received for your performance in 'Gangster'?


Of course, I remember. It was from Javed Akhtar and Shabana Azmi Ji, who called me after watching the film. They were absolutely stunned and they kept repeating 'who are you? ', ' where are you from? ', 'you did so well', 'who taught you acting?', 'Are you from here or some other universe? '. That is how they reacted and it felt nice. They were very kind and welcoming of me and my art. It was only later that I realized that when things change, people also change.
What is that one learning that has stayed with you?


There is a lot of learning that happened during 'Gangster'. Of course, filming an entire film, it was shocking that how many shots of one single line can happen, how consistent your performance should be, it shouldn't drop… things like continuity or building a graph. With every film, you keep learning, but the first film that you do, there are so many technicalities that pour in. So there are a lot of things that have always remained with me. Above everything, I learned cinema acting and that was a big change in my life.