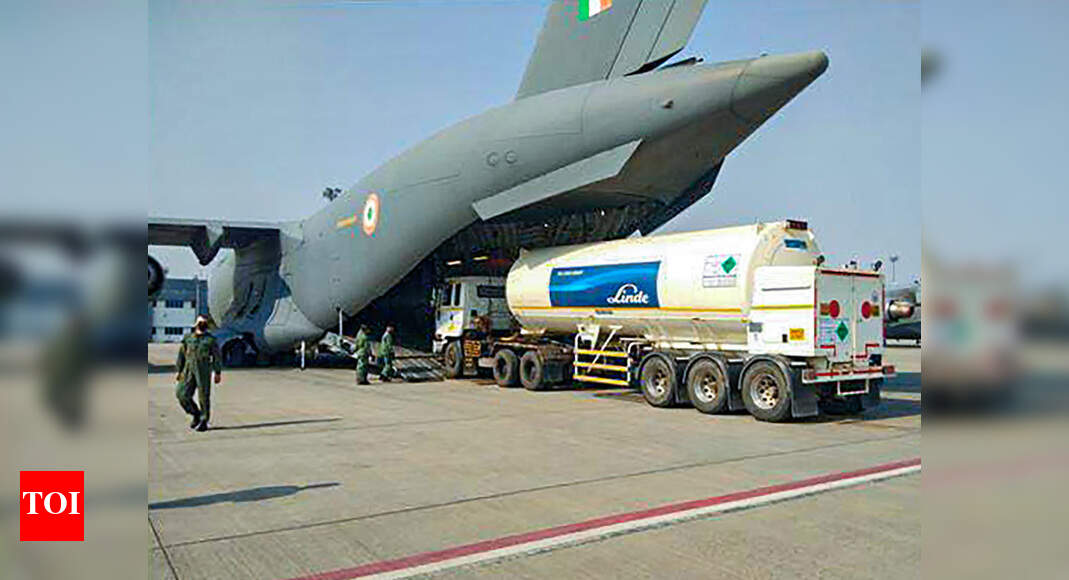 NEW DELHI: From setting up hospitals to airlifting doctors, medical supplies and large cryogenic oxygen containers, the country's defence establishment and armed forces have swung into action once again in the ongoing battle against the Covid-19 pandemic.
With depleting oxygen supplies across the country, the
IAF
has deployed its C-17 Globemaster-III and IL-76 heavy-lift aircraft to transport empty oxygen containers or tankers from their place of use to oxygen plants and filling stations to avoid transportation bottlenecks.
"With a view to make available additional tankers for movement of oxygen, the
home ministry
is also coordinating lifting of high capacity tankers from abroad, such as Singapore and the UAE, by IAF transport aircraft," said an official on Friday.
Though the proposed airlift from abroad is yet to take off, two C-17s and a IL-76 airlifted transported empty Linde and Inox oxygen containers from
Hindon
to Panagarh in West Bengal on Thursday. Similarly, eight empty cryogenic containers were airlifted from Begumpet to Bhubaneshwar by C-17s on Friday, while another was transported from Indore to Jamnagar by the IAF.
After being replenished, the large containers or tankers are being sent back on trains or roads. Airlift of loaded liquid oxygen tankers is not being carried out because it's potentially hazardous if the aircraft suddenly loses cabin pressure at high altitude, said officials.
DRDO, along with the Armed Forces Medical Services (AFMS), has set up the 500-bed Sardar Vallabhbhai Patel (
SVP
)
Covid
hospital in New Delhi, with another 900-bed one being inaugurated at Ahmedabad in collaboration with the Gujarat government on Friday.
"The SVP hospital has 161 doctors, including super-specialists, and 217 paramedics. In the Dhanvantri Covid hospital in Ahmedabad, 150 beds are with ventilators, while the remaining 750 also have oxygen. Similarly, a 450- bed hospital in Lucknow and a 750-bed one in Varanasi are also coming up," said an official.
In keeping with defence minister Rajnath Singh's instructions, the armed forces are in touch with state governments to provide assistance, while defence PSUs, ordnance factories and DRDO are working overtime to provide oxygen cylinders and extra beds to civil administrations in the country.
Military hospitals around the country are also augmenting their facilities to tackle the surge in Covid patients among serving and retired personnel. "The AFMS, for instance, is importing 23 portable oxygen generation plants from Germany for its military hospitals. They are expected within a week," said another official.
"Each such plant has the capacity to produce 40 litres of oxygen per minute and 2,400 litres an hour. At this rate, it can cater to 20-25 patients round the clock," he added.
Rajanth Singh has also sanctioned delegation of emergency financial powers to AFMS, which amounts to Rs 5 crore for Lt-General-rank officers, Rs 3 crore to
Major Generals
and Rs 2 crore to Brigadiers.
The defence ministry is also giving extension to short-service commissioned military doctors till December 31 to tide over the current pandemic. "This will augment the strength of AFMS by an additional 238 doctors," he added.