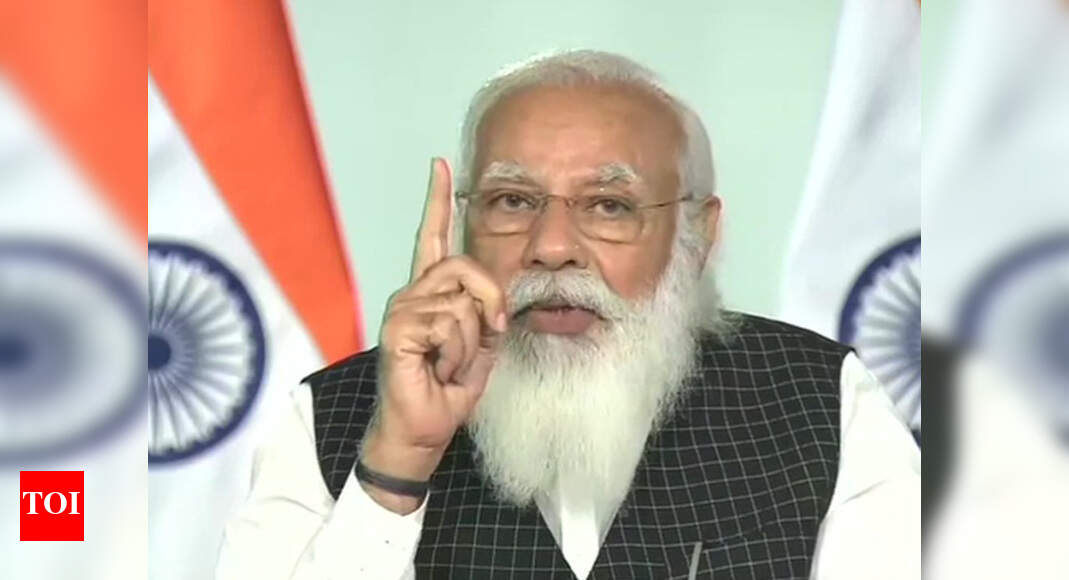 NEW DELHI: Prime Minister
Narendra Modi
on Thursday said people as well as governments have become casual during the second wave of coronavirus and appeal the chief ministers to work on a war footing to combat the virus.
Here are the key things
PM Modi
said during his meeting with CMs …
* Testing, treating and tracking are very essential to tackle the situation.
* Containing human host is a way to contain virus.
* Testing is the only way out of this crisis. Our target is to do 70% RT-PCR tests. Let the number of positive cases come high, but do maximum testing.
* Proper sample collection is very important, it can be checked through proper governance.
* During our discussion, we raised the issue of mortality rate. We have to make sure it remains as low as possible. We should have comprehensive data about patients, illnesses etc as this will help save lives.
* I request you to rename the night curfew as "corona curfew". It would be good to start this around 9 pm and end early morning. Please also focus on micro containment zones.
* Many states including Maharashtra, Gujarat,
Chhattisgarh
,
Punjab
have crossed first wave of peak in Covid cases. This is a serious concern. People have become complacent. In most states, administration has also become relaxed.
* There is a need to work on war footing again to fight Covid-19. Despite all the challenges, we have a better experience, resources and a vaccine.
* Some states need to augment infrastructure to increase testing.
* Contact tracing should be done of at least 30 people connected to one infected person within 72 hours.
* Vaccination criteria in India is similar to that being followed across the world.
* We can hold a vaccination festival from April 11 to April 14 in every district to vaccinate maximum eligible beneficiaries with zero wastage.
* We must encourage youth to follow Covid protocols more.
* We must create awareness about masks again.
* I urge governors to take lead to coordinate with elected representatives to increase awareness about fighting against Covid.
* Just like last time, we will bring the situation under control again.