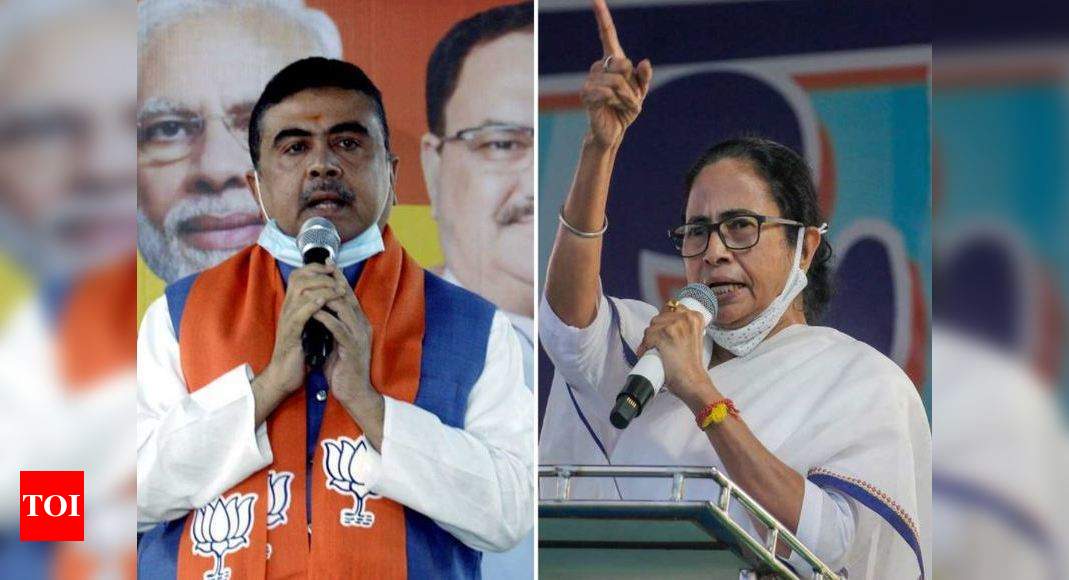 Kolkata: Suvendu Adhikari has offered to contest on a BJP ticket from Nandigram against Mamata Banerjee. His BJP colleague and former Bengal minister Rajib Banerjee spoke about the development after the Bengal poll meeting held at party president J P Nadda's Delhi home on Thursday for over five hours.
Only two weeks ago, in a tweet, Bengal BJP minder Kailash Vijayvargiya had dared the Trinamool chief to contest from Nandigram. Banerjee had declared she would fight from Nandigram, without making it clear if she was leaving her home turf Bhowanipore. Vijayvargiya wanted her to come clear on the Bhowanipore seat.
Later on Thursday evening, Prime Minister Narendra Modi and Union home minister Amit Shah visited BJP headquarters in Delhi to attend the party's central election committee (CEC) meeting that might take a final decision on 60 candidates for the first two phases of the Bengal polls beginning March 27.
West Bengal Election 2021: Live news
Bengal BJP leaders Dilip Ghosh, Mukul Roy, Shivaprakash, Amitava Chakrabarty, Suvendu and Vijayvargiya placed a list of three to five names for each constituency in the meeting at Nadda's home. Suvendu's name is among those listed for the Nandigram seat.
If things go according to plan, Bengal will witness a royal fight between Mamata Banerjee and Suvendu, her former lieutenant in the Nandigram anti-farmland acquisition stir of 2007. Suvendu, who was elected MLA from Nandigram, chose to bite the bullet when numbers for the assembly segment in the 2019 Lok Sabha polls were against him.
In 2019, Trinamool bagged 1,30,659 votes from Nandigram while BJP secured 62,268 votes and Left 9,353. Despite having the numbers in her favour, Banerjee won't just be fighting Suvendu but the entire Adhikari family (though father Sisir and brother Dibyendu are still with Trinamool).
Suvendu had announced the strategy for turning the Trinamool margin upside down from a public meeting in Hooghly on January 21. "They (Trinamool) are relying on 62,000 votes (in Nandigram) but I have the support of 2.13 lakh people who chant 'Jai Shri Ram'," he had said, pointing directly to a polarisation battle between BJP and Trinamool. Suvendu had also announced he would fetch votes from the other camp too.