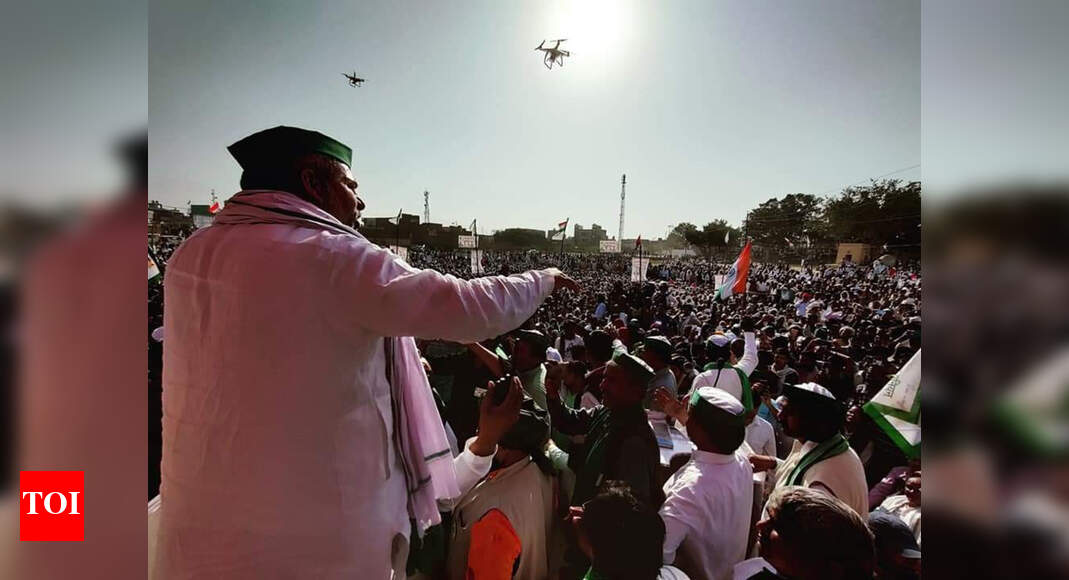 AGRA: After drawing huge crowds at 'kisan panchayats' in Haryana, Rajasthan and western Uttar Pradesh, Bharatiya Kisan Union (BKU) leader Rakesh Tikait is planning to look south for support against the three farm laws.
The farm leader is expected to hold at least 15 'kisan mahapanchayats' in six states. These states include Telangana and Karnataka. The 'mahapanchayats' will be held over the next 23 days, according to a schedule released by BKU on Saturday.
On March 6, Tikait will address farmers in Telangana, while from March 20 to 22, he will lead three 'kisan mahapanchayats' in Karnataka. BKU leadership has set a target to ensure participation of farmers from all states in the ongoing stir. Tikait had also asked farmers to be prepared for the "Delhi march."
BKU member Dharmendra Malik said, "We have finalised the schedule for 'kisan mahapanchayats' till March 22. Senior leaders from southern states had requested Rakesh Tikait's visit to boost the morale of local farmers. They had come to Ghazipur border and handed over a formal invitation. For now, we have chalked out plans for Telangana and Karnataka. Other states such as Tamil Nadu and Kerala will be covered in the next phase."
Malik added, "The government tried to divide farmers. Our unity is intact. We will make it a pan-India movement. Farmers from across the country will mark their presence in the next 'Delhi march'. The dates will be finalised by the Samyukt Kisan Morcha."
Tikait had said on Wednesday that if the Centre does not repeal the agri laws, farmers will bring in 40 lakh tractors to Delhi and lay siege to the Parliament complex.
"Harvest your crops in 20 days and get your tractors ready. Call for a 'Delhi march' can be given anytime now," Tikait had said at a 'mahapanchayat' in Agra. Besides Telangana and Karnataka, Tikait will hold four 'kisan mahapanchayats' in UP, including one at Ghazipur border on March 7, three in Rajasthan and three in Madhya Pradesh till March 22.
Since November 26 last year, farmers have been protesting on the different borders of the national capital, against the three newly enacted farm laws, Farmers' Produce Trade and Commerce (Promotion and Facilitation) Act, 2020; the Farmers Empowerment and Protection) Agreement on Price Assurance and farm Services Act 2020 and the Essential Commodities (Amendment) Act, 2020.