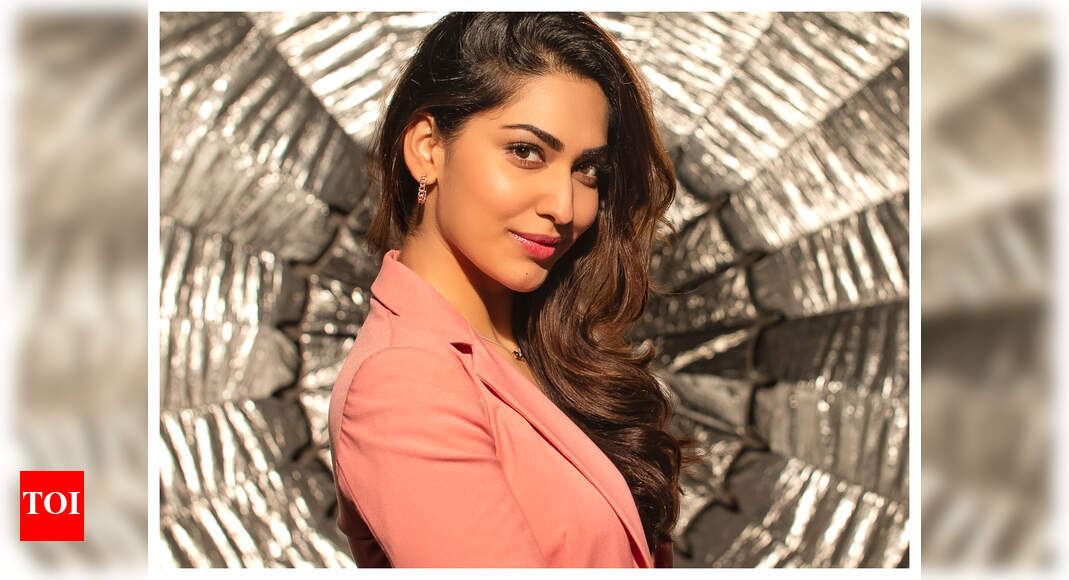 Among the many young talents chasing Bollywood dreams is Femina Miss India's first runner-up, Jhataleka who is all set to make her big screen debut with the
Sanjay Leela Bhansali
production, '
Tuesdays and Fridays
'. Ahead of her film's release this Friday, ETimes sat down for a tête-à-tête with the former beauty queen who opened up on how it felt to turn her acting dreams into reality, the Kareena Kapoor Khan-inspired 'Poo phase' she went through, seeking inspiration from
Priyanka Chopra
's journey to global domination and of course, love and romance. Excerpts:
"I am a little nervous, 'Tuesdays and Fridays' releases this Friday, so I have the pre-release jitters," admits Jhataleka, kicking off the conversation. But soon her beauty queen instincts kick in and she lets us in on her childhood dreams and aspirations. Ask her if she had imagined making her film debut with a rom-com and she doesn't miss a beat before replying, "I've always been fascinated by rom-coms and have binge-watched them through the years but never thought I will be making my debut with one. I am grateful that I landed this chance and film because I have loved watching the genre and it has only become more interesting now that I am a part of something I understand and relate to."

Talking about some of her favourite romances, Jhataleka rattles off, "'Hum Tum', 'Salaam Namaste', 'Tara Rum Pum Pum'–I remember they all came one after the other. Of course, at the same time there were 'Love Actually' and 'No Strings Attached' too". Getting a break in Bollywood may seem like a dream taking flight, but for Jhataleka it has always been a work in progress. "Acting is something I always knew I wanted to do. I remember talking about it only after giving my board exams, when you have a general conversation with your parents about your career. That's when I told them 'I want to become an actress," she recalls.
Only a few controversies ago, we found out that chasing filmi dreams was not an easy task, especially when one is not from the film industry. But Jhataleka came prepared. "I knew that it was going to take me a while to figure out how to get into the industry because I don't have any name attached or any link within the industry. Charting out my future was what I would have to do myself. I enrolled in workshops right then and focussed on becoming an actress, which is how Miss India happened," points out the debutante, adding, "Normally people think that you get into Miss India and then become an actress eventually, but for me, it was the other way around. I knew that I always wanted to be an actress and went into the pageant knowing my goals".
Although taking the tried-and-tested route to showbiz like many other beauty queens before her, she acknowledges that it was 'Desi Girl' Priyanka Chopra's journey that especially encouraged her. "I've always been inspired by Priyanka Chopra's journey – the way she won the beauty pageant and got into the industry. Somewhere in her journey, she got this strength and confidence, which is something I have always been watching and it has motivated me on my own journey," she admits.
As she is now poised to cross the threshold into the glamorous world of films, is there a childhood memory that she now looks back and laughs about? "I have home videos that prove how fond I have always been of the camera. I remember I would always find myself in front of the mirror, trying to enact some song or dance of Madhuri Dixit," she chuckles, adding, "Then there was a whole Kareena Kapoor Khan phase too when Poo happened and there have been so many instances in my childhood when I enacted scenes from 'Kabhi Khushi Kabhie Gham'". Jhataleka also didn't have problems facing the camera because, as she puts it, "I've had this long love affair with the camera, and I owe it all to my brother. He would always put me in front of the camera since I was about 3-4 years old".
Narrating how she bagged a Bhansali production, she says she owed it all to a Gaana.com advertisement that set the ball rolling. "Mukesh Chhabra sir saw the ad when it came out and said it was 'really good'. Around the same time, Mr Bhansali's production house was looking for new talent to launch. I was recommended by Mr Chhabra and landed a meeting with the CEO of the production house. Cut to a month later, I got a call telling me that Sanjay sir was meeting new faces and that he wanted to meet me as well," she relays, adding, "When I sit and look back at it all, it takes me time to take all this in. I still have to pinch myself to believe that my film is releasing this Friday".
Speaking about striking up crackling chemistry with co-star Anmol Thekariaa Dhillon, she says it was "easy", adding, "Anmol and I have known each other for a while because we were a part of the same agency before we landed the meeting with Sanjay sir. We had given a couple of auditions together and would end up practising together. It did help that we knew each other and spent enough time together; it was easier to get into the character and shoot our scenes very comfortably."
We rounded off our conversation with a quick rapid-fire:
What is your current rom-com obsession?

'Jane The Virgin'.
A character or person you would get into a contract-relationship with?

Harvey Specter from 'Suits'.

What would be the terms and conditions of this relationship?

On 'Tuesdays and Fridays' Harvey cannot think of anyone but Jhataleka.
What is the craziest thing you ever did for love?

The craziest thing I did was trying to play football.
What are your future plans?

I am hoping that there will be interesting things coming up in the future and I can't wait to share it with you all.