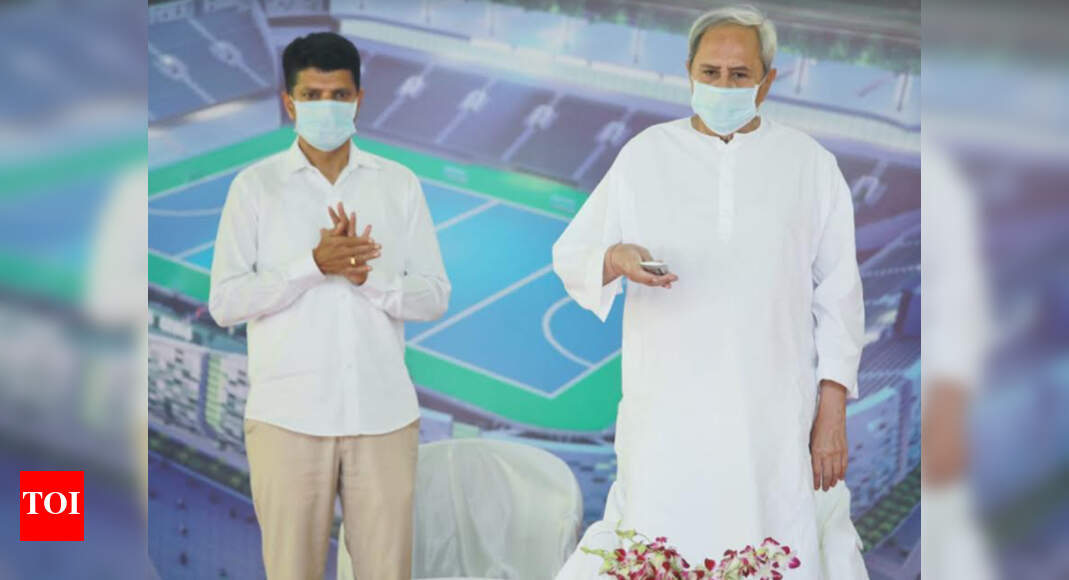 BHUBANESWAR: In his second mega show at Rourkela since Covid-19 pandemic, chief minister Naveen Patnaik on Tuesday laid foundation stone of India's biggest hockey stadium, which will be second venue for men's Hockey World Cup-2023 apart from the Kalinga Stadium.
Naveen, during his visit to the steel city, also laid foundation or inaugurated developmental projects worth Rs 5,000 crore in sectors like drinking water, irrigation, health, infrastructure and smart city development.
"The new international hockey stadium in Rourkela will be named after eminent tribal freedom fighter Birsa Munda. It is going to be the most modern field hockey facility. The hockey stadium will inspire and encourage the youths to dream big. The stadium will show to the world that Odias are second to none," said Naveen addressing the gathering.
State owned-Idco has been assigned to take up construction of the stadium, which is expected to be ready by June, 2022. The state government would spend Rs 120 crore for the purpose.
Artist's impression of the stadium
Located within the BPUT campus, the stadium is adjacent to the Rourkela airstrip, where the commercial flights are expected to start soon. State government sources said the stadium will be a new benchmark in global stadium design for hockey, offering one of the finest spectator experiences with seating capacity exceeding 20,000.
"The stadium will be a model of green, functional, cost effective design. Each seat will have uninterrupted sight lines and the spectators will be closer to the pitch than at any other hockey stadium in the world," said a sports department official.
Reiterating that hockey is the biggest identity of Sundargarh, Naveen said hockey players from the district have earned glory and fame for the nation and state.
"Hockey spirit is in the air and water of Sundargarh, also known as cradle of hockey. Rourkela has earned its place in the world sports map because of hockey. When the International Hockey Federation (FIH) gave a proposal to host the world cup again in Odisha in 2023, Rourkela came to my mind first. Hosting the world cup will be the biggest gift for the hockey-loving people of the district," said Naveen adding India has left behind countries like Belgium, Australia and Malaysia to host the mega sporting event.