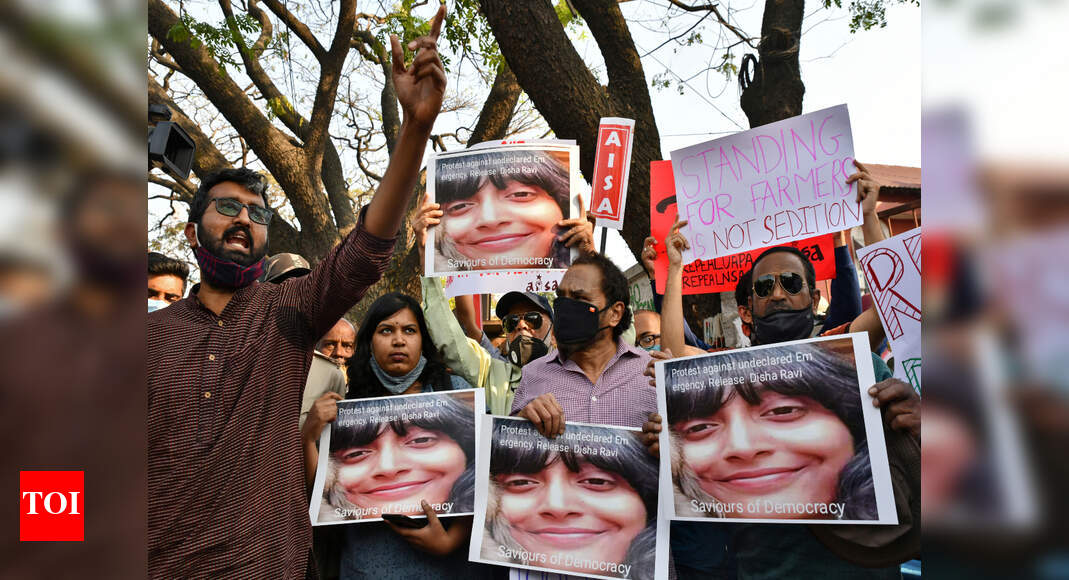 NEW DELHI: Farmers have been protesting against the three new farm laws since November 2020, however, since January 26 violence that took place during the tractor rally, controversies have overshadowed the farm agitation.
At the centre of the controversy is a toolkit, which came on Delhi Police radar after Swedish climate activist Greta Thunberg shared it on Twitter. As per the police, India-based climate and human rights activists collaborated with a Canada-based Khalistani organisation to create and spread the toolkit.
The police hold the toolkit instrumental in January 26 violence. The toolkit was moderated to "create disaffection for the Indian state", police said. Here is a look at the latest updates on the farmers protests:
Dismay, anger at rallies to protest Disha's arrest
Demonstrations and online protests raged in many parts of the country on Monday after Delhi Police arrested Disha Ravi from her Bengaluru residence on Saturday. Police have arrested Disha under sedition charges for being one of the creators and editors of the toolkit. Police said Disha had shared the toolkit with Thunberg who then published it on Twitter. Meanwhile, environmentalists and human rights activists across the country condemned the 5-day detention of the 22-year-old activist.
Disha Ravi panicked when Greta Thunberg leaked toolkit: Police
Delhi Police on Monday claimed that arrested climate activist Disha Ravi had panicked when Greta Thunberg accidentally leaked the toolkit on the farm protests and asked her to refrain from saying anything on it. Disha wanted to consult a lawyer fearing that the Unlawful Activities (Prevention) Act could be used against them, claimed the cops, citing retrieved WhatsApp chats.
Police added that Disha's associates, Nikita Jacob and Shantanu, were also on their radar, claiming that the three were connected to each other through a woman associate of Khalistani sympathiser, Mo Dhaliwal, who runs an organisation called Poetic Justice Foundation.
'Nikita & Shantanu speak for those without a voice'
In addition to Disha Ravi's arrest, Delhi Police is now chasing another two young environmental activists from Maharashtra — Nikita Jacob, 29, a lawyer with the Bombay high court also working as a human rights activist, and Shantanu Muluk, 31, an aerospace engineer-turned climate activist from Beed — after the cops procured a non-bailable warrant against them for "absconding".
Several legal eagles question sedition charge against Disha Ravi
Legal experts on Monday questioned the invoking of the sedition law in the Disha Ravi case, saying Delhi Police had 'over-reacted' and the 22-year-old climate activist's arrest was 'unwarranted'. The former chief justice of Bombay high court Pradeep Nandrajogsaid the purpose of using Section 124-A (sedition) "contemplates use of force in overthrowing of a government established by law. It requires incitement of violence as held by the Supreme Court in Kedar Nath v State of Bihar case, but what's important is the scale of such violence".
Farmer leader Rakesh Tikait turns teacher at Tikri border
Even as toolkit controversy overshadows farmers agitation against the three new farm laws, farmer leader Rakesh Tikait continues to protest on Ghazipur border on the outskirts of Delhi. The Bharatiya Kisan Union leader turned teacher on Monday and attended a makeshift school at the protest site. Tikait, who has been camping at Ghazipur for past two and a half months, not only taught the children alphabets and numbers but also took stock of what they had learnt in the month-and-a-half that the school has been operating, said BKU's media in-charge, Dharmendra Malik, at a press conference.