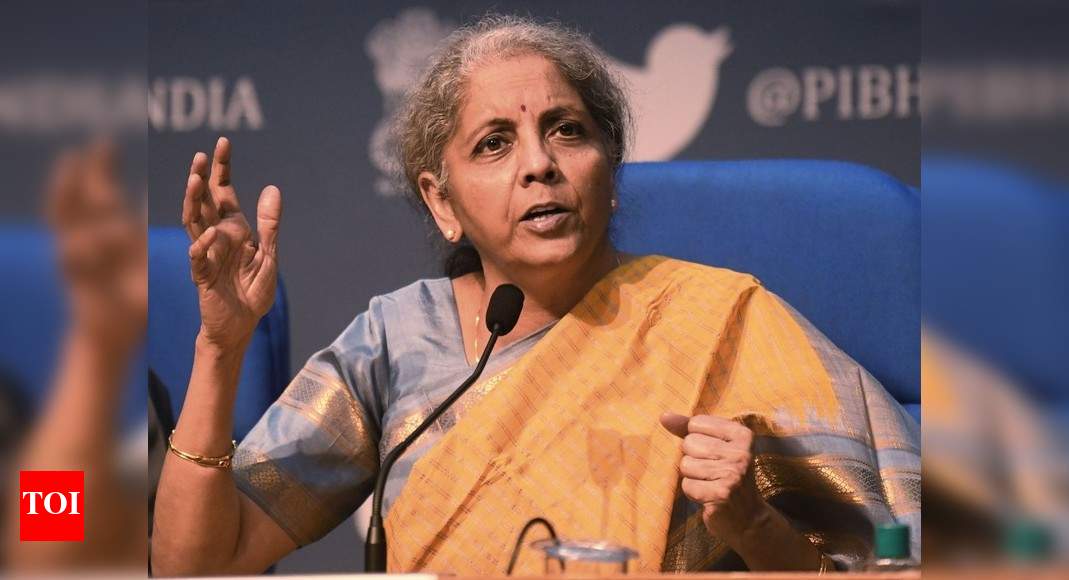 NEW DELHI: Launching a scathing attack on Congress leader Rahul Gandhi, finance minister Nirmala Sitharaman on Saturday said he is becoming a "doomsday man" for India by constantly insulting constitutionally elected authorities and countered the charge of cronyism by saying the main opposition functioned on the basis of family "damaad's" interests.
Replying to the discussion on Budget, Sitharaman listed 10 points where she said Rahul was expected to speak but made no mention in his speech and instead sought to create fake narratives on various issues — Covid-19 situation, farm laws or India-China border stand-off — to demean and show India in poor light. "I am very scared to think he (Gandhi) is probably becoming a doomsday man for India," she said. Rahul Gandhi was not present in the House.
Seeking to turn Rahul's "hum do, hamare do" jibe, Sitharaman said this applied to Congress which catered to the interests of its "damaad". There two ran the party and two, including the son-in-law, who were to be taken care of. She responded to the allegation that new farm laws will deprive farmers of their lands, saying Congress governments had failed to fulfll promises like loan waivers that were made before assembly polls in Chhattisgarh, Madhya Pradesh and Rajasthan.
"It would have been nice if he (Gandhi) who talked about 'hum do hamare do' also talked about returning damaad's (son-in-law) land (to farmers) … But he didn't say anything about this," said the finance minister. She was referring to investigations into land deals involving Congress chief Sonia Gandhi's son-inlaw Robert Vadra.
The comments on Rahul took Congress benches by surprise, with party leader Adhir Ranjan Chowdhury protesting feebly. The finance minister's remarks come in the wake of Rahul's speech during the debate on the Budget and his recent press conference where he accused the government of "ceding" land to China. Sitharaman's speech seemed a determined counterattack that matched Rahul's personalised attack on Prime Minister Narendra Modi.
Without taking Vadra's name, she said the Union minister Arjun Ram Meghwal has been repeatedly raising allegations of lands acquired at throwaway prices from farmers. "They gave farmers pittance and took away the lands. That is 'hum do hamare do'. We are two people taking care of the party and there are two other people who have to be taken care of," said Sitharaman.
Referring to the farmers' issue, she said she wanted to know from the Congress leader why the party took a U-turn on the farm laws but no reply came. He (Gandhi) did not speak on any clause of the farm laws and had even failed to explain why Congress governments in Rajasthan, Madhya Pradesh and Chhattisgarh did not waive farm loans as promised in poll manifestoes.
Sitharaman asked why didn't Rahul say anything about the statement of former Prime Minister Manmohan Singh who had advocated reform of the Agriculture Produce Marketing Committee (APMC) laws. She also accused the Congress leader of insulting constitutional authorities, recalling an incident when Gandhi tore an ordinance promulgated by the then UPA government led by Manmohan Singh.
Responding to charges of crony capitalism, the finance minister sought to remind the House about two schemes, PM-SVANIDHI and MUDRA, which are meant for street vendors and small businesses and said, "They are not cronies. They are not anybody's cronies. Leave alone our cronies, they are not even your cronies. They are the people who think of the Prime Minister who is working for Dalits, backwards, and the poor…Our cronies are the common 'janta' (people) of this country".
Taking on Congress for accusing the government is favouring certain industrialists, she asked the Congress party to explain how a particular project in Kerala was awarded on invitation basis to one of the industrialists. "They invited the crony. There was no open tender, and there was no global tender. The crony was invited then. But now they have the temerity to call us crony capitalists… Remember, you invited one of them, who you repeatedly call a crony, but requested that crony to develop a port in your state," said the minister.
She was referring to Adani Ports and Special Economic Zone Ltd, part of the Adani Group, which in December 2015 formally began development of the international transhipment project in Vizhinjam in Kerala.