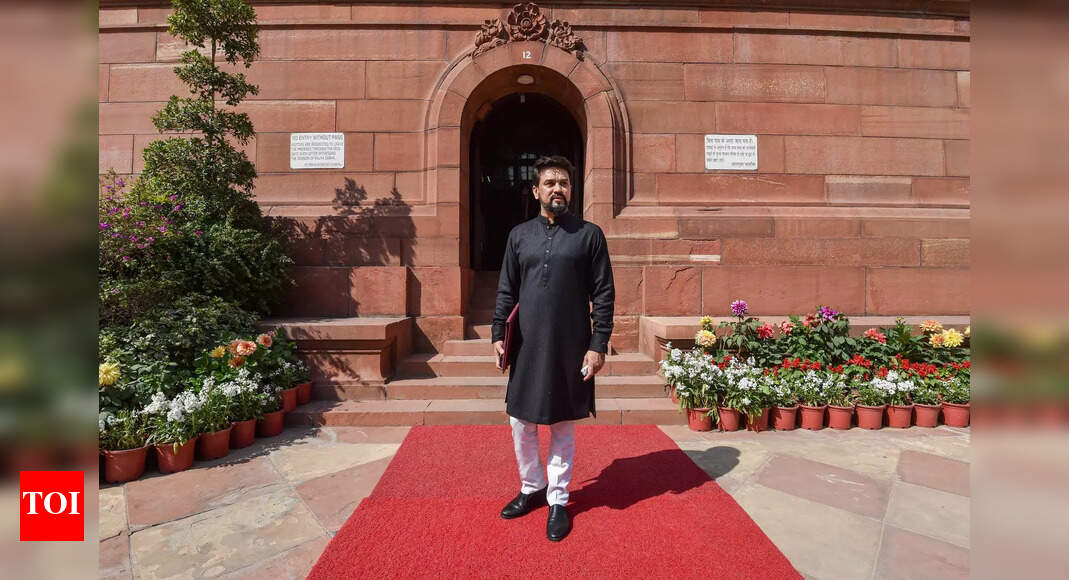 NEW DELHI: Junior finance minister Anurag Thakur on Friday attacked the West Bengal government, claiming that chief minister Mamta Banerjee's "stubborn" attitude had blocked benefits under the PM Kisan Yojana and Ayushman Bharat scheme from reaching the masses in the state.
"Democracy has been killed in West Bengal," Thakur said, speaking in an aggressive tone during the Budget discussion in Rajya Sabha. He also slammed Congress and other opposition parties for misleading farmers for their political gains, while challenging their leaders to show if it was written anywhere in the three new farm laws that the regime of 'mandis' and MSP would come to an end.
"These people say farm laws are black laws. Only those who have 'kaali nazar' will call the laws black. These laws have been brought to double the income of farmers," he said.
"You say mandis will be finished. We say we are going to further strengthen these mandis. You don't have logic, facts, you only want to create differences," he added.
It was the UPA government which had forced banks to give money to people who have now run away from the country. "Why was it that in your government there was one scam after another. Dr Saheb (Manmohan Singh) was an honest man, but what about the people under him? The Modi government is completing seven years and no one can allege even seven paise of corruption on any of the ministers," Thakur said.
Responding to his sharp attack on the West Bengal government, Abir Ranjan Biswas (TMC) said there was no explanation of sector-specific revival of the economy in the budget. "The Budget allows for unbridled growth of corporates. This government is for, by and of the capitalists," he said.
Meanwhile, the use of the term 'andolanjivi' by PM Narendra Modi in Rajya Sabha to target people behind the farmers' protests seems to have motivated MPs from opposition parties to coin similar words to target the government. Congress MP Deepender Hooda on Friday branded the government "petroljivi" for its dependence on cess collected from petrol and diesel.
Aam Aadmi Party's Sanjay Singh said while farmers protesting at Delhi's borders were "andolanjivis", they were not "bhashanjivi" and "jumlajivi". Since the PM's comments on what he called "habitual protesters", several opposition leaders have affixed 'andolanjivi' before their names on their Twitter handles.
Hooda, a Congress MP, accused the government of failures on several fronts. "You government not only broke the records of unemployment of the past 70 years, but also petrol and diesel prices have touched all time high. Your government has levied the highest ever tax on petrol and diesel because it is 'petroljivi' government," he added. Hooda said going by the PM's observation that the farmers' protest was "pious" and some people were polluting it, Modi should accept the demand of the pious ones.